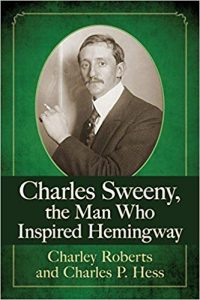 Charles Sweeny, the Man Who Inspired Hemingway
by Charley Roberts and Charles P. Hess.
McFarland & Company (Jefferson, NC), 2017.
Paperback, 279 pages, $35.
Reviewed by Robert Huddleston
Charles Michael Sweeny met Ernest Hemingway "in war-torn Turkey in the fall of 1922," shortly before the Greco-Turkish war ended. Both were there as journalists to report on the conflict, Hemingway as a yet-to-be novelist employed by the Toronto Star. Sweeny, not truly a reporter, was reporting for the French government
But the two men did meet and established an enduring friendship: "Sweeny was the war hero that Hemingway longed to be, while Hemingway was [to become] the acclaimed writer that Sweeny would have liked to be," claims journalist George Seldes, who knew both. "The two men shared a pattern of behavior," he believed, "that suggests an even deeper emotional link … each tended to embellish their exploits." Hemingway created myths and legends about himself and thus "was forced to live up to them." Seldes held a similar view of Sweeny. Carlos Baker, Hemingway biographer, wrote that Hemingway was "amazed" at Sweeny's "grasp of military science and tactics." According to Sweeny biographer Donald McCormick, "Sweeny took the young reporter under his wing." When Hemingway lacked sufficient narrative details for one of his deadline dispatches, Sweeny provided the necessary facts. All this and perhaps more explains why the friendship flourished until Hemingway's death on July 2, 1961. Charles Sweeny served as an honorary pallbearer.
So … in those thirty-nine years of friendship was Charles Sweeny "the man who inspired Hemingway?" Perhaps. Both served in the Great War; Hemingway as a nineteen-year-old ambulance driver on the Italian front and Sweeny as an officer in the French Foreign Legion, a rare role for a non-Frenchman, then as an officer in the American Expeditionary Forces (AEF) in 1917 when we entered the conflict. Both men were badly wounded—Hemingway in the leg; Sweeny "took a bullet through the lung"—requiring extensive surgery and weeks to recuperate.
After World War II, the authors note, "and continuing until Hemingway's death in 1961, Sweeny and Hemingway remained in contact through letters and visits." Yes, Hemingway the novelist may have modeled certain fictional characters after known persons, as do many novelists. But this hardly qualifies Sweeny, an impressive soldier of fortune, to inspire Hemingway, an iconic novelist and short story writer.
Coupling Charles Sweeny and Ernest Hemingway in this biography of Sweeney seems to be mostly a marketing device. Just having Hemingway on the cover is certain to increase sales, and dropping mention of "Papa" Hemingway would in no way lessen the quality of the biography.
Charles Michael Sweeny (a.k.a. Charles Sweeny, Jr.) was born in 1882 of well-off parents, their wealth coming from mining interests in the U.S. and elsewhere. Charles and his brother Robert decided their future: Charles to West Point, Robert to Yale and Harvard. Charles entered West Point in June of 1900 only to be ousted in 1901 for "excessive demerits." The influence of his congressman got him readmitted the next year. "Sweeny completed the 1902–03 school year," write the biographers, "but roughly halfway through the 1903–04 school year, he resigned …" Two reasons are offered: "academic failure" or "misbehaving." In either case, Charles Sweeny, Jr. was now free to embark on a life as a soldier of fortune, a mercenary.
Heading south across the border, young Sweeny—an excellent model for the fictional James Bond, though Bond serves his government while Sweeny free-lanced—had no difficulty in finding a conflict where he could practice his chosen profession. Surviving—barely—in revolutions in Mexico, Venezuela, and Nicaragua, he enlisted in the French Foreign Legion. In 1914 at the start of the Great War, he became an officer and "the first American to earn France's highest medal for valor." Unlike many, including the American president who saw the Great War as "a war to end all wars," the experience appears to have only fueled Sweeny's passion for conflict. He became a Polish brigadier general in their 1919–20 conflict with the Soviet Union before moving south to join in the Greco-Turkish war—where he met Hemingway—and become a military advisor to Atatürk, president of Turkey.
During World War II Sweeny was commissioned as a colonel in the U.S. Army Air Forces and was an honorary Group Commander in the Royal Air Force (he favored the RAF uniform). He organized the recruiting of volunteer fighter pilots for Britain. France, and Finland (at war with the Soviet Union). He was credited with having led the effort to create within Britain's Royal Air Force three squadrons of American volunteers called the "American Eagles."
In his twilight years, Colonel Sweeny railed against President Roosevelt and several other World War II military leaders. His attempt to write a book as to how WWII should have been fought and future wars could be avoided failed, though he did produce a pamphlet on the theme.
The biography is well organized, with the normal front matter followed by an especially interesting introduction on "Heroes, Role Models, and Legends." It does have a number of avoidable factual errors. Though Colonel Sweeny is given credit as having founded the RAF Eagle Squadrons of American volunteer pilots, "Charles's nephew Robert … a decorated combat pilot in the RAF during the war," had a brother also named Charles Sweeny who was "the founder of the Eagle Squadron: Colonel Sweeny, the uncle, however, did much of the recruiting of pilots and was made the honorary commander of the Eagles." Also, the authors miss that the Eagle Squadrons did not fight in the Battle of Britain but entered the conflict later. A reported nine Americans did serve in the Battle of Britain (July through October 1940), and those that survived subsequently fought with the Eagles.
Two books listed in the extensive bibliography deal with the RAF Eagle Squadrons: Eagles of the RAF by Philip D. Caine (1992) and The Eagles Roar by Byron Kennerly (1941), a memoir of his service with an Eagle Squadron. The authors describe aerial combat featured in the Kennerly memoir, not mentioning that Colonel Caine has exposed Kennerly's book as a fabrication. Kennerly flew no combat with the Eagles and was literally run out of Britain for uncivilized behavior. In spite of this, his book was a success and formed the basis for International Squadron, a motion picture featuring Ronald Reagan. As a capstone to the story, Kennerly was arrested for attempting to rob a bank!
The four Sweenys—Colonel Sweeny, his brother Robert, and Robert's two sons, Charles and Robert, Jr.—deserve an honest motion picture with much derring-do from the RAF Eagles of World War II fame orchestrated by this amazing family.  
---
Robert Huddleston was a combat pilot in the European air war of World War II. He writes from North Carolina.