Kirk Center's Founding Chairman, State Senator Joanne Emmons, Passes Away. She Led the Center for 27 Years.
On March 31, 2022, The Russell Kirk Center lost its founding chairman, Joanne Emmons. Joanne died peacefully at age 88 in her hometown of Big Rapids, Michigan.
Since its inception in 1995, the Russell Kirk Center was blessed to have State Senator Joanne Emmons serving as chairman of its Board. No one did more to encourage and guide the Kirk Center than did Joanne. She was a steady leader and a loyal supporter of the Center's mission.
Joanne first met Russell Kirk at a Farm Bureau talk in the 1950s. A native of Big Rapids in Mecosta County, Joanne and her husband John, a farmer, became frequent participants in seminars and gatherings at the Kirks' home.
During her time in the Michigan Legislature, Joanne served first in the House of Representatives for two terms and then in the Senate for three terms between 1987 and 2002. She was a political pioneer, becoming the first woman in Michigan history to be elected Senate Majority Leader.
Her support of the Russell Kirk Center's mission through the decades was memorialized in 2020 during the Center's 25th anniversary campaign. At that time, she was admitted to the Kirk Center's Edmund Burke Circle as a "defender of the permanent things."
Kirk Center Co-Founder and Executive Director, Dr. Jeffrey Nelson, remarked that "Joanne possessed several qualities that made her the perfect person to lead the Kirk Center for nearly three decades: she understood the role of prudence in practical politics, she possessed a keen moral imagination, and she is that model politician that both Burke and Kirk admired, one capable of pursuing needed reforms while maintaining a disposition to preserve." Jeff also noted that "Joanne always inspired her fellow board members by her passionate commitment to first principles and her cheerful hopefulness. The Kirk Center quite simply would not have made it through its early years without her patient, experienced, and encouraging leadership."
While the Center mourns her death, her example and spirit will remain with us and help guide us. As Annette Kirk reflected, "It was a privilege to be associated with Joanne and we know she is now enjoying, once again, the companionship of her husband, John, who preceded her to Heaven's gate."  Requiescat in Pace.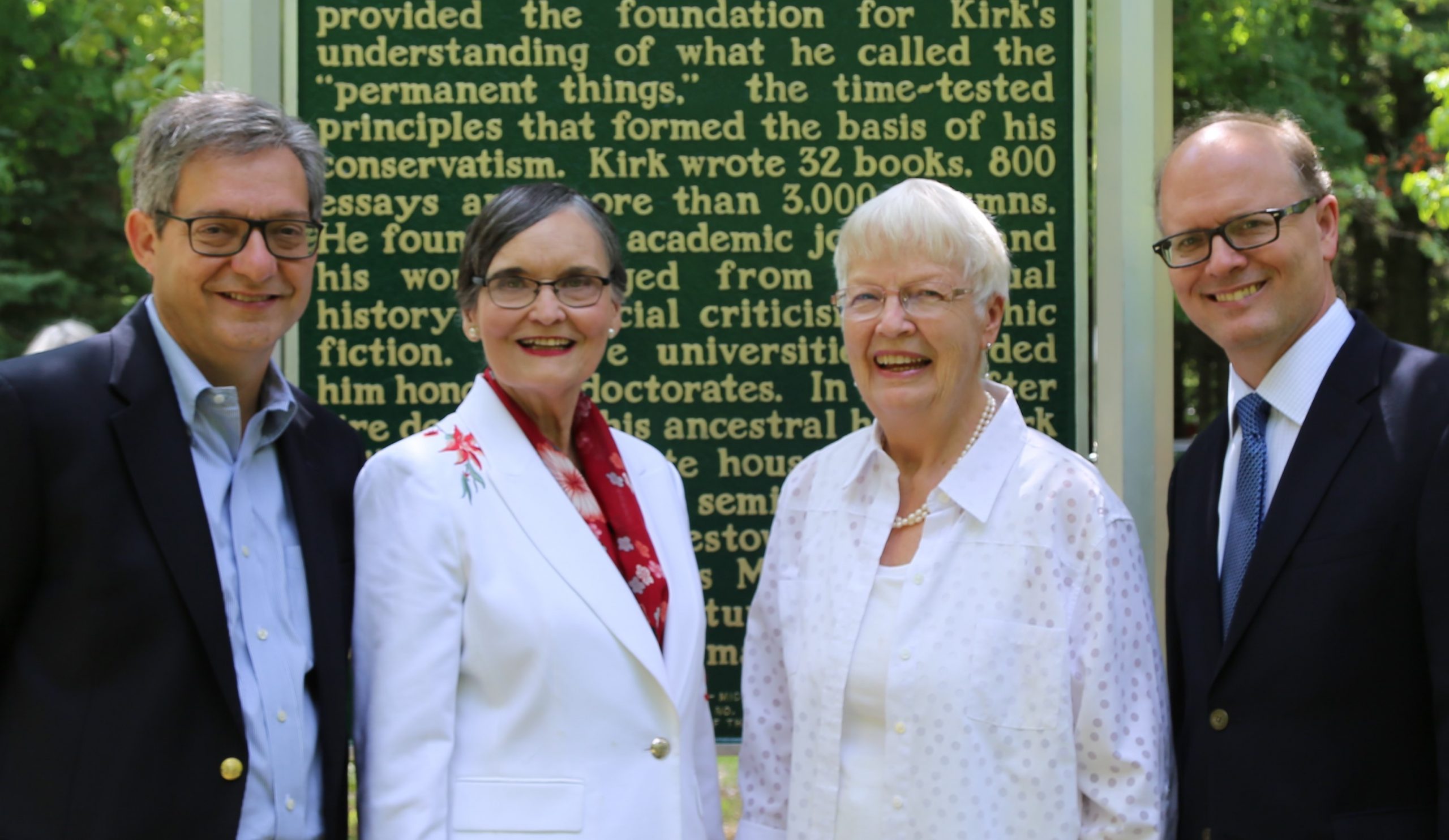 Joanne Emmons spoke at the dedication of the Michigan Historic Marker honoring Russell Kirk in 2019. She is pictured here with Kirk Center board members David Khorey, Annette Kirk, and Jeff Nelson.
Hope College Students Consider "The Human Condition"
The Tocqueville Forum of
Hope College
enjoyed a wonderful seminar at the Kirk Center from October 24 to 26 considering "The Human Condition."

Seminar speakers included Kirk Center Senior Fellows Gleaves Whitney and Jeff Polet, Cara Rogers (Asst. Professor of History,
Ashland University
), Patrick Deneen (
University of Notre Dame
), and Jason Peters (Associate Professor of English Literature,
Hillsdale College
).
The students offered the following reactions to their time spent at the Kirk Center:
"Loved the opportunity to talk with faculty and spend significant time with them in an intimate setting."

"Absolutely amazing."

"Very helpful in interacting with faculty and formulating thought on political and cultural matters."

"Sign up. It's fantastic."
Interns Engage with Conservative Principles
Each summer, the Kirk Center welcomes a group of interns from the Acton Institute for the Study of Religion and Liberty to an intellectual retreat to focus on first principles. This July, Acton interns gathered in the Kirk library for a seminar titled "Politics, Economics, and History: An Introduction to Contemporary Conservatism." The interns heard from senior fellow Bruce Frohnen during the morning session on "Principled Conservatism as the Basis for Good Public Policy." Dr. Frohnen wove into his talk many experiences and illustrations from Russell Kirk's life with which most of the interns were unfamiliar. Over lunch at the Kirk home, the group enjoyed continuing this conversation with Annette Kirk.
The afternoon session was led by senior fellow Gleaves Whitney who considered "The Roots of American Order and the Contemporary Challenge to America's Founding." This provoked thoughtful and important questions from the students who are fully engaged with the current intellectual trends and seek to draw upon the best of conservative ideas to aid them in both their work and personal conversations. 
Before driving back to Grand Rapids, the staff and interns stopped by the Mecosta Book Gallery to acquire some hard-to-find used books. This has become an enjoyable tradition for them to conclude a memorable day.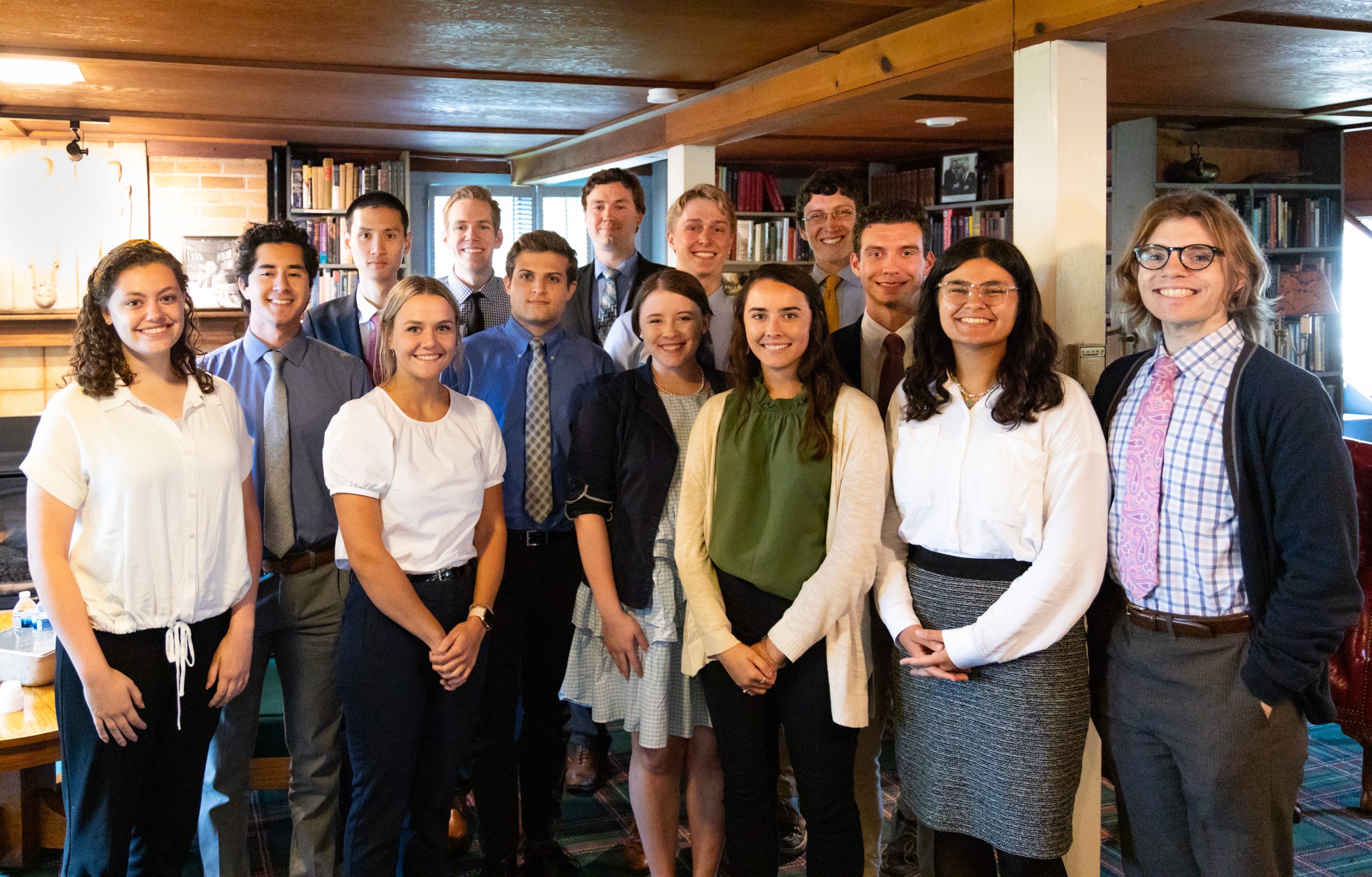 "It was a great learning experience and I have a much greater appreciation for the history of American conservatism."

"Loved it! Great people and conversations."

"Amazing–the environment (both physically and intellectually)–is second to none."

– Acton Institute Interns
Graduate Students Discuss "Liberty and Liberal Education"
On April 22 – 25, graduate students invited by the Intercollegiate Studies Institute met at the Kirk Center for a conference on "Liberty and Liberal Education," co-sponsored by Liberty Fund, Inc. They examined the connection between liberty and liberal education, with an emphasis on the history and theory of education and its relationship to political life. Readings explored the relationship between liberal education and liberty in the Western tradition, culminating with two sessions specifically on education in the United States. 
Dr. David Whalen of Hillsdale College facilitated the discussion for the fifteen participants who represented universities including Harvard University, The University of Wisconsin, Georgetown University, Marquette University, The Catholic University of America, the University of Dallas, and the University of Delaware. 
Seminar Explores Shakespeare's Plutarch
On March 25 – 27, Hillsdale College students gathered for a seminar at the Kirk Center on the topic: "If You Have Writ Your Annals True: Plutarchan Lives and Shakespearian Tragedies." Students read aloud selections from the plays Coriolanus and Julius Caesar, as well as attended lectures and participated in discussions.
Indeed, Plutarch's influence extended even beyond Shakespeare's time to eighteenth-century America. As Russell Kirk noted, "Through his Lives of the Noble Grecians and Romans, Plutarch came to influence Americans' thought more (with the possible exception of Cicero) than did any other classical writer." Seminars such as this one convey through imaginative literature, drama, and history a deeper understanding of our common cultural heritage.
Book Launch of The Conservative Mind in Brazil
We're pleased to announce that The Conservative Mind, translated into Portuguese for the first time, has recently been published in Brazil. On January 12th, Alex Catharino, the writer of the introduction, conducted the virtual book launch from the É Realizações Editora auditorium in Sao Paulo. In the live interview with Jeff and Cecilia Nelson, Alex asked about "the man behind the book" with a focus on Kirk's role as a mentor for the pair. Jeff had the unique experience of working with Kirk in his library as his assistant in the 1980's, then published several of his books, and later co-founded the Russell Kirk Center with Annette Kirk. Cecilia spoke extensively about her father's ideas and their integration into how he lived his private life. She also responded to Alex's inquiry regarding her current role in promulgating her father's literary legacy. 
The video of the English-language discussion is available on the YouTube channel of É Realizações, the publisher, here.
The University Bookman at 60: A Retrospective
This year, the University Bookman celebrates its 60th year of publication. Historian George Nash charts the journal from its origins in an arrangement between Russell Kirk and William F. Buckley Jr. to its evolution into a respected source for cultural commentary from a conservative perspective in his essay "Defending the Right and the Good." Looking back at the challenges to its continuity, Nash finds several lessons, among them:
[T]he University Bookman's story exemplifies what can happen when a person of conservative persuasion takes a stand and casts a proverbial pebble into a pond. No one can predict what the consequences may be. I suspect that Kirk often thought of this as he edited his low-key periodical and watched its ripples press outward with each issue.
College Students Attend The Tocqueville Forum's Retreat at The Kirk Center
The Kirk Center hosted students from The Tocqueville Forum of Hope College, joined by additional students from Northwood University, for an intellectual retreat titled "From Statesmanship to Poetry" from November 22 – 24.  Organized by Dr. Jeff Polet, professor of political science at Hope College, the seminar included the following lectures:
"The Art and Science of Statesmanship" – Dr. Michael Federici, Middle Tennessee State University
"The Threats of Corruption" – Dr. Molly McGrath, Assumption College
"Honor, Integrity, and the Need for Nations in Shakespeare's King John" – Dr. Kahlil Habib, Hillsdale College
"Hills Like White Elephants" – Dr. Jason Peters, Augustana College
These young people were among the more than 250 undergraduate and graduate students who participated in seminars at Piety Hill this year. Here at the home of conservative thought in America, students are introduced to and grow in their understanding of both the moral imagination and the permanent things.
University of Louisville Students Consider Law, Culture, and the Afterlife at The Kirk Center
Forty students from The University of Louisville traveled from Kentucky to the Kirk Center in Mecosta to attend a four-day seminar led by Kirk Center Senior Fellows and other distinguished scholars.
Senior Fellows James Person Jr., Dr. Bruce Frohnen of Ohio Northern University College of Law, and Dr. Jeffrey Polet of Hope College spoke on the following topics respectively: "Russell Kirk–Son of Plymouth and Mecosta,"  "Decadence, Renewal, & America's Way Home," and "Russell Kirk & America's British Culture."
Students participated in round-table discussions of C.S. Lewis' The Great Divorce, guided by Dr. David Whalen of Hillsdale College, and of Scipio's Dream and The Celestial Railroad by Dr. Gary Gregg of the McConnell Center. Additionally, they enjoyed conversing with Center President Annette Kirk and Michigan Supreme Court Justice Stephen Markman.
Many of the students commented that the gathering was a highlight of their year, and several shared their reflections on the seminar:
"I have loved my experience at the Kirk Center. It has renewed my love for inquiry….the Kirk Center is a beacon of light for learning and truth-seeking that would be a valuable experience for anyone willing to learn."

"Dr. Kirk's work has reinforced my understanding of the importance of imagination and I appreciate all you do to continue that legacy and revitalize the moral imagination."
Kirk Center Co-Founder Interviewed on
"Coffee with Cornelius" Podcast
Dr. Jeffrey Nelson, co-founder of The Russell Kirk Center for Cultural Renewal, joined Cornelius Christian on his podcast to discuss the influence of the traditionalist conservative strand within American conservatism, Russell Kirk's main ideas, and what Kirk would have thought about the response to COVID-19 in the U.S.  Professor Christian, host of "Coffee with Cornelius," teaches economics at a university in Canada.  Listen and watch here.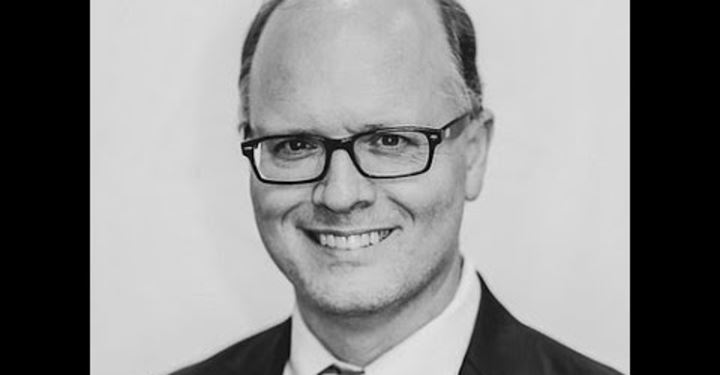 Professor Hiro Aida, Japanese translator of The Conservative Mind, tours Michigan colleges and visits the Kirk Center
At Northwood University and Hope College, Professor Hiro Aida told students about the close relationship and parallel modernization of America and Japan – an important contrast to the relatively short enmity between the two countries during WW2. But his presentations at the Russell Kirk Center enabled a deeper examination of how Japan wrestled with modernization, and how Edmund Burke became an important conservative counterweight to the pernicious ideas of Rousseau.
Professor Aida delighted the Kirk Center audience with stories and insights of personal connections that both Russell Kirk and Friedrich Hayek had to Edwin McClellan and his translation of Kokoro, an important Japanese novel about the perils of modernity.
The visit of Hiro Aida was made possible by a grant to Northwood University from the Japan Foundation Center for Global Partnership.
Imaginative Conservatism:
The Letters of Russell Kirk
A prolific author and wise cultural critic, Russell Kirk kept up a steady stream of correspondence with friends and colleagues throughout the world, but these letters have never been published until now. In Imaginative Conservatism: The Letters of Russell Kirk, editor James E. Person, Jr. presents for the first time 190 of Dr. Kirk's most provocative and insightful letters. Published by the University of Kentucky Press in 2018, the collection includes correspondence between Kirk and prominent figures T. S. Eliot, William F. Buckley Jr., Ray Bradbury, Arthur Schlesinger Jr., Charlton Heston, Nikolai Tolstoy, Wendell Berry, Richard Nixon, and Herbert Hoover, among many others. In addition, there are letters to less famous but no less significant friends, family members, colleagues, students, and ordinary readers of Dr. Kirk's syndicated column. The volume provides insight not only to substantial autobiographical information, but to the twentieth century's influential interpreters of American political and culture.
In National Review, Gerald Russello wrote that the publication of this collection of Kirk's considerable correspondence "it is a great service to American intellectual history generally and to that of conservatism in particular." The full review can be found here:
https://www.nationalreview.com/magazine/2018/05/28/little-money-but-good-canoeing/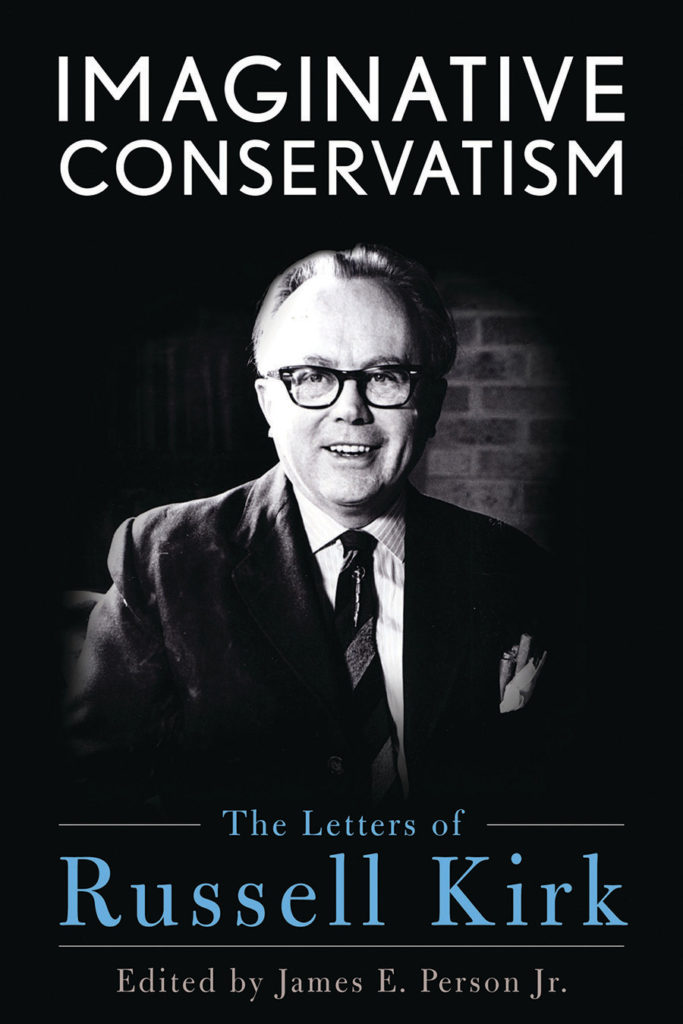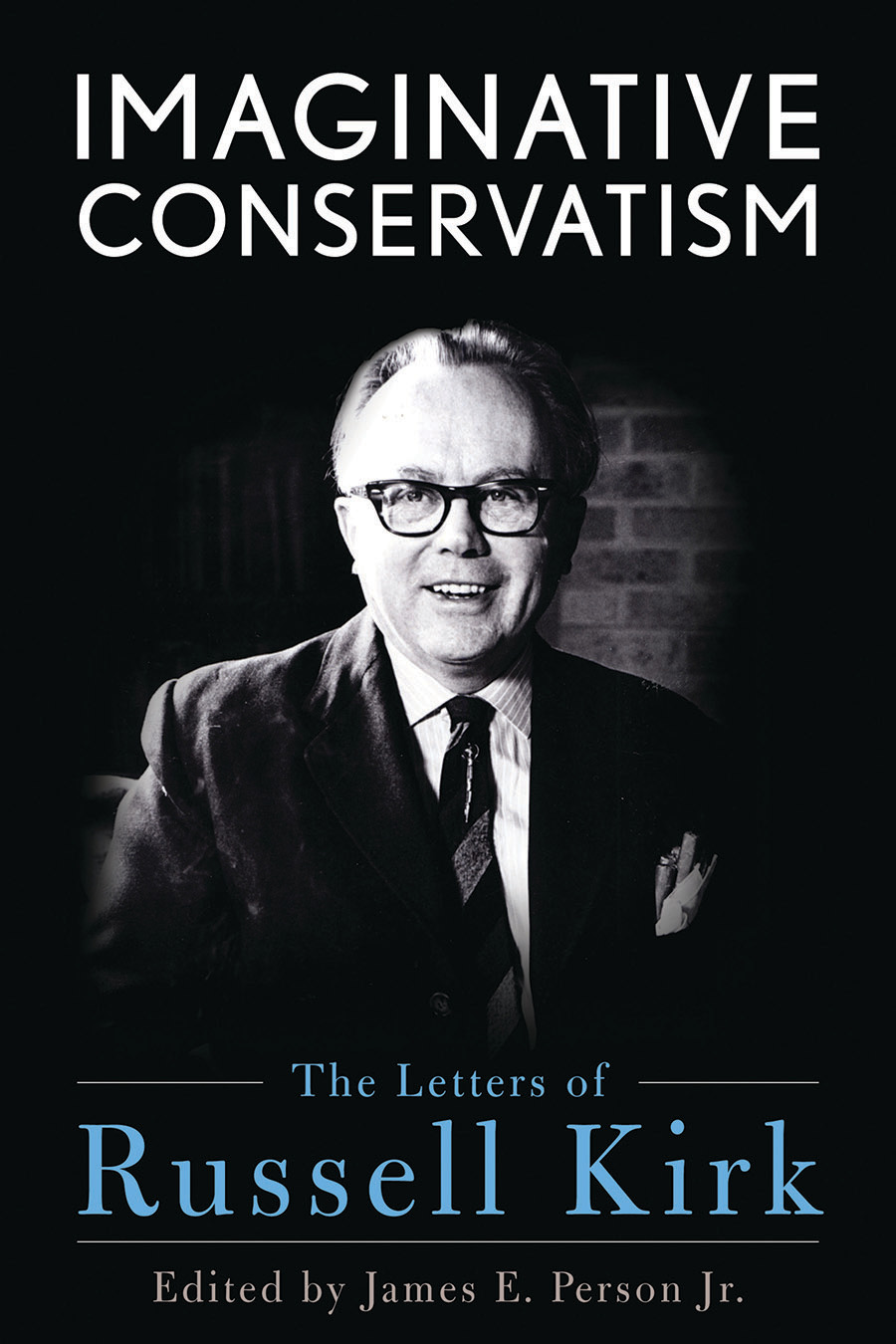 C-SPAN History Airs Conservative Writers' Panel Discussion Exploring the Legacy of Russell Kirk
On November 13, 2018, University Bookman editor Gerald Russello, National Review Institute senior fellow John O'Sullivan, and Modern Age editor Daniel McCarthy gathered to discuss Russell Kirk's influence, legacy, and the future of conservatism at an event in New York City called Kirk, Conservatism, and the Next Century. This Kirk Centennial event was co-sponsored by the Russell Kirk Center and the National Review Institute. C-SPAN history was on site to film the event which aired in early 2019 and can be viewed in its entirety at the link below.
Russell Kirk and the Future of Conservatism
In case you missed other articles and videos during the Kirk Centenary, be sure to visit our Kirk at 100 page.
Plymouth Library Hosts Capacity Audience
for Presentation on Russell Kirk
On October 19, 2018–100 years to the date that Russell Kirk was born in Plymouth, Michigan–the Plymouth District Library held an event celebrating his achievements.  James Person, editor of Imaginative Conservatism: The Letters of Russell Kirk (2018), spoke on Kirk the man and the writer, accompanied by rarely-seen photos from Kirk's boyhood in Michigan.  In a surprise appearance, representative Jeff Noble presented a tribute in honor of Dr. Kirk from the State of Michigan. Among the several Wilbur Fellow alumni in attendance was attorney Max Goss, who spoke about the Society for Law and Culture, a new program he founded under the auspices of the Kirk Center.  A stunning cake resembling a stack of Dr. Kirk's most popular books made by a local bakery pleased the crowd.  Each attendee received a booklet entitled "Russell Kirk: Pillar of Tradition," a chapter from Ink Trails: Michigan's Famous and Forgotten Authors, to bring wider attention to the work and thought of "Michigan's greatest man of letters."