City Journal profiles Kirk Center Senior Fellow George H. Nash
In an essay for City Journal, Christian Alejandro Gonzalez interviews George H. Nash, noted historian and Kirk Center Senior Fellow, on his life's work exploring the meaning of American conservatism yesterday and today. Gonzalez writes:
"In his landmark history, The Conservative Intellectual Movement in America since 1945, he gives a fair hearing to traditionalists and libertarians, neoconservatives and paleoconservatives alike, never intervening on behalf of the faction that he believes to possess the superior argument. Intra-conservative debates are presented with charity toward all sides."
To the problems facing conservatives today, Nash does "offer a word of advice on how they could build a new consensus. Any return to first principles, he has written, must be undertaken with an eye toward what conservatives want at a fundamental level. He offers his view of what that is: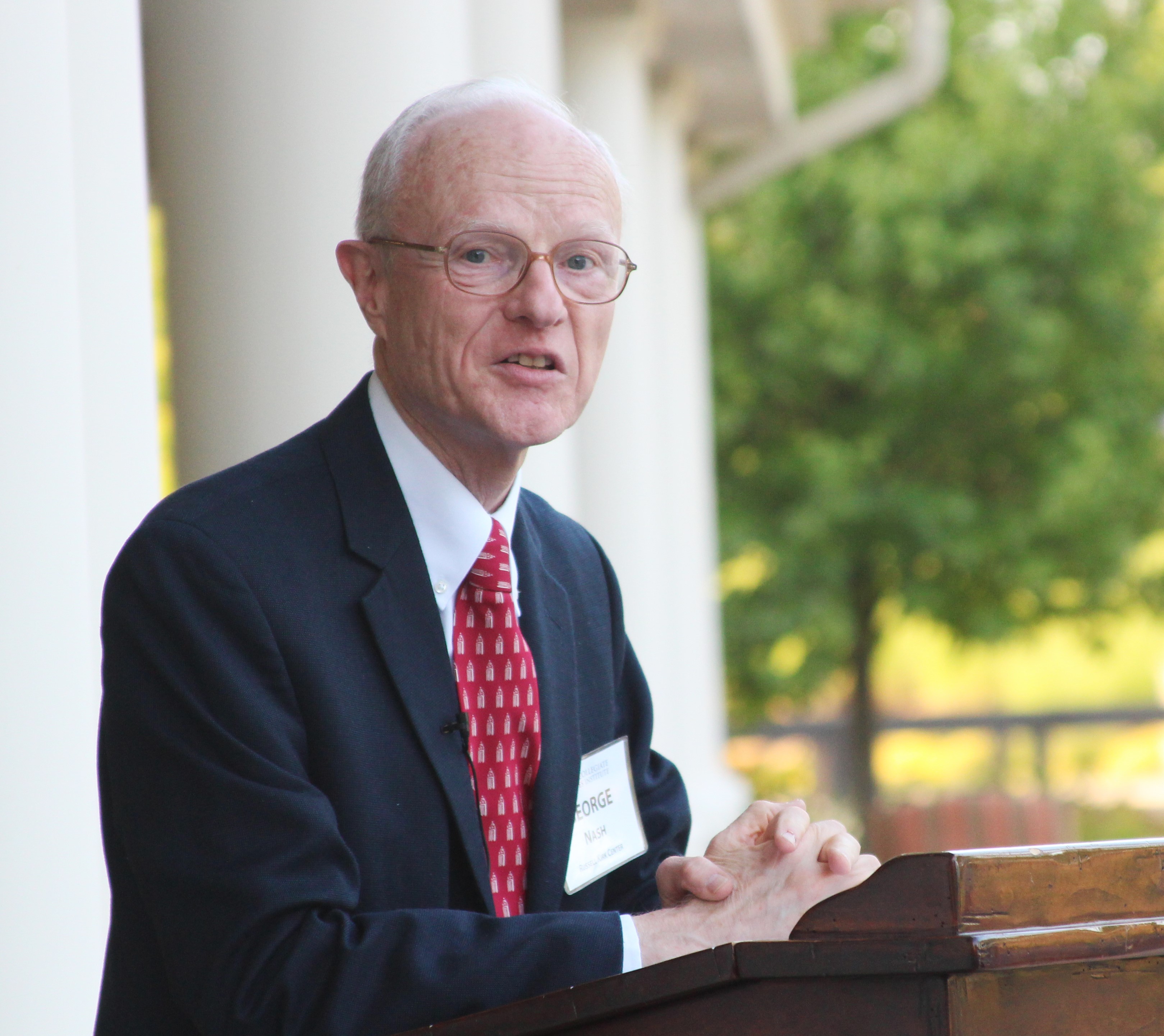 'To put it in elementary terms we [conservatives] want to be free, we want to live virtuous and productive lives, and we want to be secure from threats beyond and within our borders. We want to live in a society that sustains and encourages these aspirations. Freedom, virtue, safety: goals reflected in the libertarian, traditionalist, and national security dimensions of the conservative movement. But to achieve these perennial goals, we must communicate in language that connects not only with our own coterie but with the great majority of the American people.'"
Students from Michigan Public Policy Organizations Gather for Seminar
A Day at the Center for Professionals 
On June 22, the Kirk Center hosted a one-day seminar for professionals based on Russell Kirk's books The American Cause and The Roots of American Order. While many of the Center's programs are geared toward students and professors, this seminar was attended by guests from the general public seeking to understand and strengthen the institutions, beliefs, and practices that undergird America's tradition of ordered liberty. Speakers included Daniel McCarthy, editor of Modern Age, and Jeffrey Polet, professor of Political Science at Hope College and a Kirk Center Senior Fellow. Visitors enjoyed browsing in Dr. Kirk's library and hearing stories about the home and area from Annette Kirk. 
Regnery Gateway Publishes Russell Kirk's Concise Guide to Conservatism
The Kirk Center is pleased to announce the publication of Russell Kirk's Concise Guide to Conservatism, an essential summary of conservative principles. This is a new edition of a book written in 1957 and originally titled The Intelligent Woman's Guide to Conservatism–a retort to George Bernard Shaw's Intelligent Woman's Guide to Socialism and Capitalism.  Only 100 pages long, the work has long been unavailable but has now been rediscovered as a succinct sequel to The Conservative Mind. Given the present confusion about the meaning of conservatism, this book "comes at an opportune moment," as Matthew Continetti recently commented in National Review. 
Most amazingly of all, this book has required no dramatic revision after the passage of sixty-two years. That very fact gives it unexpected weight. Kirk's insights about family, the importance of private property, education, religion, and a dozen other subjects not only remain completely sound but now seem downright prophetic. See if you don't agree. If that's not proof that Kirk's conservatism was grounded in the Permanent Things, I don't know what is.

– From the new introduction by Wilfred M. McClay, professor and author of Land of Hope: An Invitation to the Great American Story
The University Bookman Hosts Poetry Reading in New York
James Matthew Wilson, professor at Villanova University and poetry editor for Modern Age, read from and discussed his new collection of poetry for a University Bookman gathering in New York City on March 28. For the first time, James read in public a sonnet "For Russell Kirk" that he wrote to commemorate the centenary of Kirk's birth and which will be published in National Review. The event was held at the beautiful St. Michael's rectory before a full house of Bookman readers, some of whom traveled from other states to attend this gathering.
As a graduate student, James was a Wilbur Fellow at the Kirk Center. Of the lasting significance of his time as a Fellow, he writes:
All my study and my writing seeks to extend the tradition that Kirk so marvelously described in his many books; his was the mind of a historian, mine, I suppose, of a poet and philosopher, and so I have sought especially to understand the role that the fine arts play within a decent human existence and to understand as well those metaphysical principles which lie beneath and give form to the disposition of the conservative.
C-SPAN History Airs Conservative Writers' Panel Discussion Exploring the Legacy of Russell Kirk
On November 13, 2018, University Bookman editor Gerald Russello, National Review Institute senior fellow John O'Sullivan, and Modern Age editor Daniel McCarthy gathered to discuss Russell Kirk's influence, legacy, and the future of conservatism at an event in New York City called Kirk, Conservatism, and the Next Century. This Kirk Centennial event was co-sponsored by the Russell Kirk Center and the National Review Institute. C-SPAN history was on site to film the event which aired in early 2019 and can be viewed in its entirety at the link below.
Russell Kirk and the Future of Conservatism
In case you missed other articles and videos during the Kirk Centenary, be sure to visit our Kirk at 100 page.
Plymouth Library Hosts Capacity Audience
for Presentation on Russell Kirk
On October 19, 2018–100 years to the date that Russell Kirk was born in Plymouth, Michigan–the Plymouth District Library held an event celebrating his achievements.  James Person, editor of Imaginative Conservatism: The Letters of Russell Kirk (2018), spoke on Kirk the man and the writer, accompanied by rarely-seen photos from Kirk's boyhood in Michigan.  In a surprise appearance, representative Jeff Noble presented a tribute in honor of Dr. Kirk from the State of Michigan. Among the several Wilbur Fellow alumni in attendance was attorney Max Goss, who spoke about the Society for Law and Culture, a new program he founded under the auspices of the Kirk Center.  A stunning cake resembling a stack of Dr. Kirk's most popular books made by a local bakery pleased the crowd.  Each attendee received a booklet entitled "Russell Kirk: Pillar of Tradition," a chapter from Ink Trails: Michigan's Famous and Forgotten Authors, to bring wider attention to the work and thought of "Michigan's greatest man of letters."
Romanian Group Launches Essay Contest
on Kirk's Books
Remus Tanasă, a Romanian reader of Dr. Kirk's books, founded the Russell Kirk Romania group in 2016 to promote Kirk's ideas and books in that country. On October 18, Professor Tanasă launched an essay contest on the topic "Russell Kirk, Conservatism, and the Permanent Things," sponsored by Russell Kirk Romania and LaPunkt magazine, to increase awareness of Dr. Kirk's books. The contest winners will be selected by a distinguished panel of six judges which includes Dr. Mihail Neamțu, a scholar and author of ten books who was a Wilbur Fellow at the Kirk Center in 2008.
The Russell Kirk Center for Cultural Renewal provided copies of several books for the essay contest.  We are delighted to hear of this initiative by Professor Tanasă and encourage anyone who speaks Romanian to visit their website "Russell Kirk Romania."
Imaginative Conservatism: The Letters of Russell Kirk
A prolific author and wise cultural critic, Russell Kirk kept up a steady stream of correspondence with friends and colleagues throughout the world, but these letters have never been published until now. In Imaginative Conservatism: The Letters of Russell Kirk, editor James E. Person, Jr. presents for the first time 190 of Dr. Kirk's most provocative and insightful letters. Published by the University of Kentucky Press in 2018, the collection includes correspondence between Kirk and prominent figures T. S. Eliot, William F. Buckley Jr., Ray Bradbury, Arthur Schlesinger Jr., Charlton Heston, Nikolai Tolstoy, Wendell Berry, Richard Nixon, and Herbert Hoover, among many others. In addition, there are letters to less famous but no less significant friends, family members, colleagues, students, and ordinary readers of Dr. Kirk's syndicated column. The volume provides insight not only to substantial autobiographical information, but to the twentieth century's influential interpreters of American political and culture.
In National Review, Gerald Russello wrote that the publication of this collection of Kirk's considerable correspondence "it is a great service to American intellectual history generally and to that of conservatism in particular." The full review can be found here:
https://www.nationalreview.com/magazine/2018/05/28/little-money-but-good-canoeing/