Welcome to the web home of the Edmund Burke Society of America.
Here you will find information about the society and its schedule, access to the society's journal, Studies in Burke and His Time, extracts from our former newsletter Reflections, together with scholarly materials and articles on Edmund Burke.
The society is dedicated to the study, interpretation, and application of the life and thought of Edmund Burke. Its guiding principle is that the substance of Burke's political thought should remain the subject of vigorous discussion and debate and that an interest in his thought and in its significance historically and for us today is sufficient qualification for association. Through its activities and publications, the society seeks to present the perennial insight and wisdom of Edmund Burke to a new generation as a salutary guide for action, reform, and renewal.
News:
The Kirk Center is pleased to announce the publication of an important new collection of Edmund Burke's timeless writings on modern revolution entitled Edmund Burke and the Perennial Battle, 1789-1797. The Center and its Edmund Burke Society of America partnered with CL Press and the Fraser Institute to help produce this accessible new volume expertly edited by Daniel B. Klein and Dominic Pino. Other partners on this project include the Acton Institute, Fund for American Studies, and National Review Institute.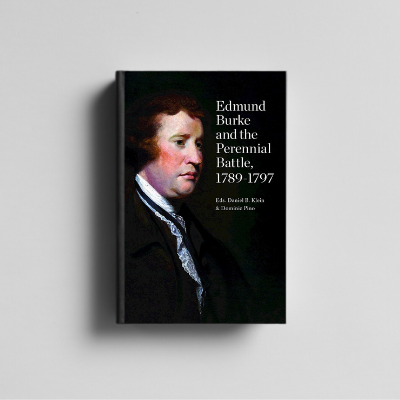 At a reader-friendly 154 pages and budget-friendly $9, this is a perfect volume for students of every age to gain a fresh introduction to Burke and some of his most enduring and relevant thoughts on the modern revolutionary mind. To that end, the Kirk Center, and its own project, The Edmund Burke Society, are proud to partner in reviving a deeper understanding of this key area of Burke's thought.
NOTICES
The latest issue of Studies in Burke and His Time, Volume 30 (2021) has now been released and may be found on the journal's page.
The revival of this society's journal, Studies in Burke and His Time, coincided fortuitously with the appearance of the second part of F.P. Lock's seminal two-volume biography of Edmund Burke, published by the Clarendon Press in 2006. The ensuing ten years have been particularly rich ones for students of Edmund Burke, with substantial publications that have risen to Lock's work in scope and penetration while providing their own diverse yet strongly coherent perspectives on Burke's intellectual and political development.
To illustrate the richness of what David Womersley, Thomas Warton Professor of English at the University of Oxford, has recently called "a golden age of Burke scholarship," we make available below a link to an interview by Richard Bourke (Empire and Revolution. The Political Life of Edmund Burke, Princeton University Press, 2015) for Liberty Fund, Inc.'s Liberty Law Talk site. The Edmund Burke Society gratefully acknowledges permission from Liberty Fund, Inc. to post this link:
Explore selected resources on Edmund Burke