"Redeeming the Time" Seminar
May 4
Students from Calvin College
The Kirk Center, Mecosta, MI
Book Launch for Michael Brendan Dougherty's "My Father Left Me Ireland"
May 15, 7:30 – 10:30 p.m.
The University Bookman is a co-sponsor of this book conversation event.
Registration available here. 
The Players, New York City
"Tale of Five Cities: Tracing the Roots of American Order" Conference
"The Conservative Mind" Seminar
June 13 – 16 
Faulkner University graduate students
The Kirk Center, Mecosta, MI
"The American Cause" Seminar
"The Politics of Prudence" Seminar
June 24
Michigan interns
The Kirk Center, Mecosta, MI
40th Anniversary of the Wilbur Fellows Program
August 17
Wilbur Fellow alumni reunion
The Kirk Center, Mecosta, MI
Society for Law and Culture Seminar
September 28
Attorneys, judges, and academics
The Kirk Center, Mecosta, MI
Common Ground Initiative Debate
April 12, 12 – 1:45
Hauenstein Center, co-sponsored by the Kirk Center
Richard M. DeVos Center, 401 Fulton St. W., Grand Rapids, MI
"Human Nature, Imperfectibility, and Liberty" Conference
April 11 – 14 
ISI graduate students conference
The Kirk Center, Mecosta, MI
Hillsdale College American Studies Student Gathering
April 5 – 6
The Kirk Center, Mecosta, MI
Poetry Reading by James Matthew Wilson
March 28, 6:00 p.m. – 8:00 p.m.
St. Michael's Church, 424 W 34th St, New York, NY
James Matthew Wilson is Associate Professor of Religion and Literature at Villanova University and Poetry Editor for Modern Age. 
RSVP to bookmanadmin@kirkcenter.org.
"Fate and the Individual" Seminar
March 21 – 24
Hillsdale College Honors Students
The Kirk Center, Mecosta, MI
"Liberalism, Conservatism, & the American Founding": a symposium on Kirk's The Roots of American Order*
October 3, 4:00 – 5:30 p.m.
American Enterprise Institute, Washington, DC
 View the video here. 
Panelists: Ted McAllister, Professor of Public Policy, Pepperdine University; Samuel Gregg, Director of Research, Acton Institute; Daniel McCarthy, editor, Modern Age. Moderator: Ryan Streeter, Director of Policy Studies, AEI.
October 19, 6:30 – 9:00 p.m.
Plymouth, MI

"Russell Kirk: Son of Plymouth and Mecosta"
Presentation by James E. Person, Jr., editor of the recently published Imaginative Conservatism: The Letters of Russell Kirk
Reception with Mrs. Annette Kirk
Plymouth District Library
Hope College Students Seminar
"Civil Discourse in a Time of Political Polarization"
November 5, 7:00 p.m.
Holland, MI
Speakers: Dr. Elizabeth Corey, Baylor University, and Dr. Michael Federici, Middle Tennessee State University.
Hosted by Markets & Morality and the Tocqueville Forum; cosponsored by Kirk on Campus.
Winants Auditorium in Graves Hall, Hope College.
"The Crisis of Liberalism: Christianity and Politics in the 21st Century"
November 6,  5:30 – 7:00 p.m.
New York City
Lecture by Patrick Deneen, author of Why Liberalism Failed and Professor of Political Science at the University of Notre Dame.
Response by Vincent Phillip Muñoz, Tocqueville Associate Professor of Religion & Public Life in the Department of Political Science at the University of Notre Dame.
Co-sponsored by The University Bookman, Portsmouth Institute, and the Morningside Institute.
New York Athletic Club (180 Central Park S., New York, NY 10019; NYAC dress code required).
Hillsdale College Honors Students Fall Seminar
November 8 – 11
Kirk Center
"Kirk, Conservatism, and the Next Century"*
November 13, 5:30 – 7:30 p.m.
New York City

Panelists: John O'Sullivan, editor-at-large of National Review, Gerald Russello, editor of The University Bookman, and Daniel McCarthy, editor of Modern Age. As a historical note, Dr. Kirk wrote a column on education for 25 years for National Review, and founded both The University Bookman and Modern Age, journals which continue to flourish today.
Co-sponsored by National Review Institute. C-SPAN to film.
New York City Union League Club (38 East 37th Street, New York, NY 10016).
November 15, 7:00 – 9:00 p.m.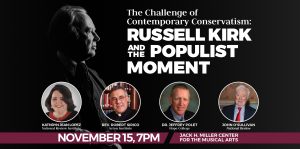 Holland, MI
Speakers: John O'Sullivan, editor-at-large of National Review, the Rev. Robert Sirico, president of the Acton Institute, and Dr. Jeff Polet, professor of political science at Hope College. Moderator: Kathryn Jean Lopez, Senior Fellow at National Review Institute. Co-sponsored by Hope College Political Science Department, National Review Institute, and the Acton Institute.
Jack H. Miller Auditorium, Hope College

"Edmund Burke, Russell Kirk and Revolution in the Modern Mind" *
November 17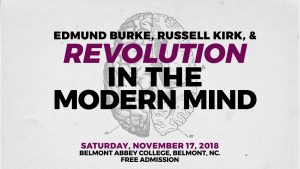 Belmont Abbey College, NC
Keynote speaker Wilfred McClay, Chair in the History of Liberty at the University of Oklahoma; open panel session on selected texts. Please see our Edmund Burke Society homepage for the full conference program and registration sign-up.