Russell Kirk authored thirty-two books on political theory, the history of ideas, education, cultural criticism, and supernatural tales. Both
Time
and
Newsweek
have described him as one of America's leading thinkers, and
The New York Times 
acknowledged the scale of his influence when it wrote that Kirk's 1953 landmark book
The Conservative Mind
 "gave American conservatives an identity and a genealogy and catalyzed the postwar movement."

Kirk was born near the railroad yards at Plymouth, Michigan, in 1918 and lived much of his life at his ancestral place, Piety Hill, in the village of Mecosta, Michigan. There he converted a toy factory into his library and built an Italianate house adorned with sculpture and architectural antiques repurposed from demolished buildings in Western Michigan.
After receiving his bachelor's degree from Michigan State College (now University), Kirk studied the politics of John Randolph of Roanoke for his master's degree at Duke University. Kirk's research on Randolph's politics led him to discover the far more powerful thinker, Edmund Burke, whose principles would strongly influence his subsequent thought.
Following service in the army during World War II, Kirk became an instructor in the history of civilization at Michigan State. He took a leave of absence from teaching to research the history of the principal thinkers of England and America at the University of St. Andrews in Scotland.  The resulting manuscript earned Kirk the highest arts degree, the doctor of letters, from the University of St. Andrews.
Henry Regnery published this lengthy work as The Conservative Mind in 1953. The book became one of the most widely reviewed and discussed studies of political ideas in America and catapulted Kirk to national prominence. In The New York Times Book Review, Gordon Keith Chalmers wrote that "the author of The Conservative Mind is as relentless as his enemies, Karl Marx and Harold Laski, considerably more temperate and scholarly, and in passages of this very readable book, brilliant and even eloquent."
Kirk considered the book an intellectual genealogy of great British and American thinkers–such as Edmund Burke,  John Adams, James Fenimore Cooper, Nathaniel Hawthorne, and T. S. Eliot–and demonstrated that a vital and respected conservative tradition was central to the American experience.  The book has gone through seven editions and continues to be translated into foreign languages to the present day.
Following the success of The Conservative Mind, Kirk resigned his teaching post and moved to Mecosta, Michigan, to pursue a career as an independent writer and lecturer. He continued to publish books at a remarkable rate during his long career,  among them Prospects for Conservatives, The American Cause, Academic Freedom, The Roots of American Order, Edmund Burke: A Genius Reconsidered, Enemies of the Permanent Things, Decadence and Renewal in the Higher Learning,  America's British Culture, and The Politics of Prudence. He became widely recognized as a formidable literary and social critic for his book Eliot and His Age:  T. S. Eliot's Moral Imagination in the Twentieth Century (1971). In addition, he wrote three novels and three volumes of collected short stories and contributed essays and reviews to more than a hundred serious periodicals both in the United States and abroad.
Kirk wrote a bi-monthly page on education, "From the Academy," for National Review for twenty-five years; and a newspaper column, "To the Point," through the Los Angeles Times Syndicate for thirteen years. He was the founding editor of the educational quarterly  The University Bookman, and of the quarterly Modern Age, both of which continue today as lively journals of opinion and scholarship.
When not in his library in Mecosta, Dr. Kirk lectured at colleges and conferences around the country on political thought and practice, modern culture, educational theory, literary criticism and social themes.  He especially enjoyed addressing college audiences, believing strongly that the key to the lasting triumph of conservative ideas lay in shaping the cultural and moral beliefs of the rising generation. He addressed audiences on hundreds of American campuses as well as debated with such well-known speakers as Norman Thomas, Arthur M. Schlesinger, Jr., Eugene McCarthy, Malcolm X, Dick Gregory, and Tom Hayden. Dr. Kirk was visiting professor at several universities in the disciples of history, political thought, humane letters, and journalism.
At various times, Kirk was a senior fellow of the American Council of Learned Societies; a Constitutional Fellow of the National Endowment for the Humanities; a Fulbright Lecturer in Scotland; a Guggenheim Fellow; and a distinguished scholar of The Heritage Foundation.   The Christopher Award was conferred upon him for Eliot and His Age, and he received The Ann Radcliffe Award of the Count Dracula Society for his gothic fiction.  The Third World Fantasy Convention gave him its award for best short fiction for "There's a Long, Long Trail a-Winding." He received the Weaver Award of the Ingersoll Prizes for his scholarly writing. In 1989, President Reagan conferred on him the Presidential Citizens Medal.
For nearly thirty years, Kirk was married to Annette (nee Courtemanche); they had four daughters: Monica, Cecilia, Felicia, and Andrea. Together they hosted refugees from Communist countries, university students, and scholars at their home. The Kirks held frequent seminars at their residence and received several literary interns every year.
Dr. Kirk passed away on April 29, 1994. His own account of his life, The Sword of Imagination: Memoirs of a Half Century of Literary Conflict, was published in 1995. His work is continued by The Russell Kirk Center for Cultural Renewal.
"The elaborate fabric which we call our civil social order–the complex of moral habits, political establishments, customary laws, and economic ways–has been erected over many centuries by a painful and laborious process of trial and error. It is the product of filtered wisdom…."
– Russell Kirk, Prospects for Conservatives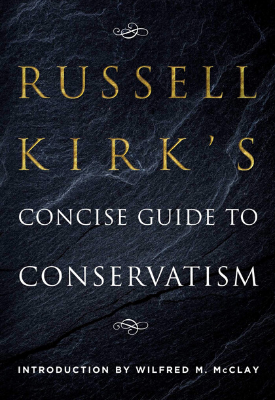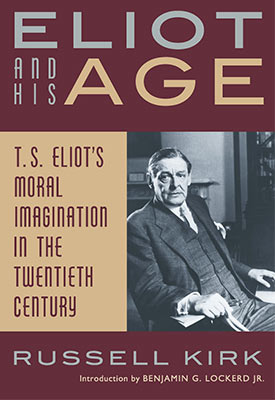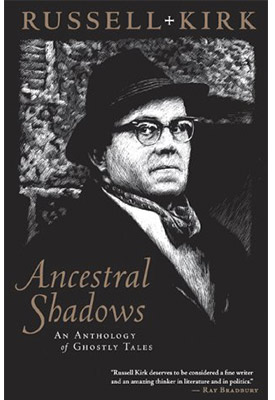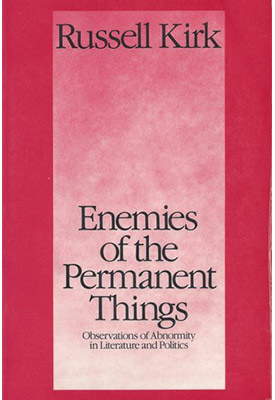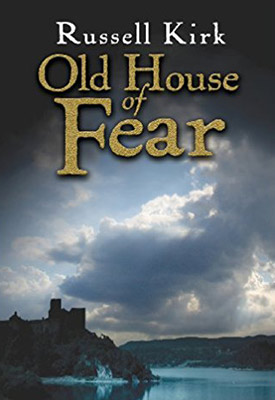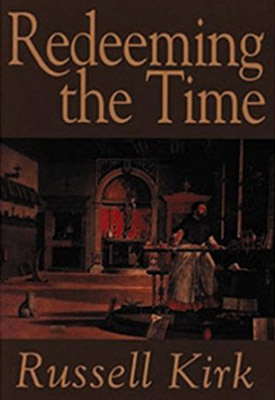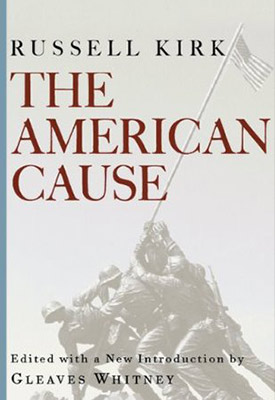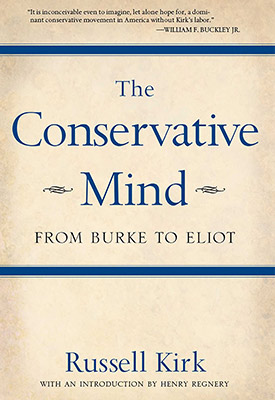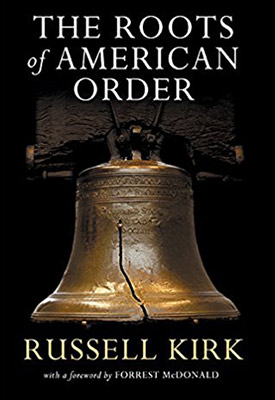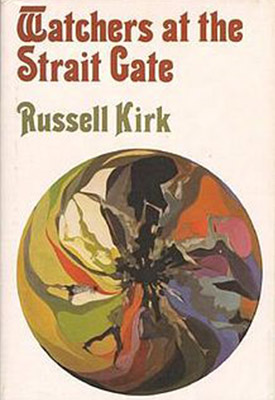 Books by Russell Kirk
Books In Print
(with most recent publisher and year)
John Randolph of Roanoke (Liberty Press, 1997)
The Conservative Mind: From Burke to Eliot (Regnery, 1986)
Prospects for Conservatives (Imaginative Conservative Books, 2013)
Original title: A Program for Conservatives
The American Cause (ISI Books, 2002)
Russell Kirk's Concise Guide to Conservatism (Regnery Gateway, 2019)
Original title: The Intelligent Woman's Guide to Conservatism
Edmund Burke: A Genius Reconsidered (ISI Books, 1997)
The Political Principles of Robert A. Taft (with James McClellan; Routledge, 2010)
Enemies of the Permanent Things:
Observations of Abnormality in Literature and Politics (Cluny Media, 2016)
Eliot and His Age:
T. S. Eliot's Moral Imagination in the Twentieth Century (ISI Books, 2008)
The Roots of American Order (ISI Books, 2003)
Economics: Work and Prosperity (a textbook; A Beka Book, 1989)
The Politics of Prudence (ISI Books, 1993)
America's British Culture (Routledge, 1993)
The Essential Russell Kirk: Selected Essays,
edited by George A. Panichas (ISI Books, 2007)
Imaginative Conservatism: The Letters of Russell Kirk,
edited by James E. Person, Jr. (University Press of Kentucky, 2018)
Old House of Fear* (Criterion Books, 2019)
Books Out of Print
St. Andrews
Academic Freedom: An Essay in Definition
Beyond the Dreams of Avarice: Essays of a Social Critic
Confessions of a Bohemian Tory
The Intemperate Professor, and Other Cultural Splenetics
Decadence and Renewal in the Higher Learning
The Portable Conservative Reader, edited with introduction and notes
Reclaiming a Patrimony, a collection of lectures
The Wise Men Know What Wicked Things are Written on the Sky
Redeeming the Time, a collection edited by Jeffery O. Nelson
Rights and Duties: Reflections on our Conservative Constitution
(a revised and expanded edition of The Conservative Constitution)
The Sword of Imagination: Memoirs of a Half-Century of Literary Conflict
The Surly Sullen Bell*
A Creature of the Twilight: His Memorials*
The Princess of All Lands*
Lord of the Hollow Dark*
Watchers at the Strait Gate*
Off the Sand Road: Ghost Stories*
What Shadows We Pursue: Ghost Stories*
Ancestral Shadows: An Anthology of Ghostly Tales*
*denotes works of fiction
Kirk edited many volumes in The Library of Conservative Thought, published by Transaction Books, now available through Routledge.
For a complete list of all the sixty-eight books to which Kirk wrote critical introductions, forewords, and prefaces, see Russell Kirk: A Bibliography, by Charles Brown (ISI Books, 2011).
Also see the "Selected Bibliography" of both primary and secondary sources included in James E. Person, Jr., Russell Kirk: A Critical Biography of a Conservative Mind (Rowman & Littlefield, 2016); or George A. Panichas, The Essential Russell Kirk: Selected Essays
(ISI Books, 2012).
Books about Russell Kirk
Birzer, Bradley.  Russell Kirk: American Conservative. University of Kentucky Press, 2015.
Brown, Charles. Russell Kirk: A Bibliography. ISI Books, 2011.
Gushurst-Moore, Andre. The Common Mind: Politics, Society and Christian Humanism from Thomas More to Russell Kirk. Angelico Press, 2013.
McDonald, W. Wesley. Russell Kirk and the Age of Ideology. University of Missouri Press, 2004.
Pafford, John. Russell Kirk. The Major Conservative and Libertarian Thinkers Series. Bloomsbury, 2013.
Person, James E., Jr. Russell Kirk: A Critical Biography of a Conservative Mind. Rowman & Littlefield, 2016.
Person, James E., Jr., editor. The Unbought Grace of Life: Essays in Honor of Russell Kirk.  Sherwood Sugden & Co., 1994.
Russello, Gerald. The Postmodern Imagination of Russell Kirk.  University of Missouri Press, 2007.
Russell Kirk's 10 Conservative Principles
Entry in American Conservatism: An Encyclopedia
The following was adapted from "Russell Kirk," by W. Wesley McDonald, in American Conservatism: An Encyclopedia.
The concept of the "moral imagination" formed the basis of Kirk's attack on ideologies of both the Left and Right. This term, coined by Burke and used later by Paul Elmer More and Irving Babbitt as a philosophical concept to be applied as a response to modern ideological challenges, refers to man's intuitive power to perceive ethical truths and abiding law in the midst of the seeming chaos of experience. Imagination, not calculating reason, Kirk held, elevates man above the beasts. The primary conflict of our time exists not between competing programs for the material betterment of mankind, but between opposing types of imagination.
The idyllic imagination of Rousseau and the rationalistic utilitarian imagination of Jeremy Bentham inspired the virulent ideologies that continue to threaten the moral and political foundations of Western social and moral order. Kirk especially condemned the utilitarians for failing to acknowledge the existence of an ethical standard beyond mere self-interest. In his understanding of the moral foundations of traditional conservatism, Kirk freely admitted his indebtedness to Edmund Burke and other thinkers presented in The Conservative Mind whose contributions he believed formed a conservative political tradition.
While he cautioned against the excessive growth of centralized governmental authority, Kirk stressed that government and society ought properly to serve man's civilized objectives. For Kirk, true conservatism entailed recognition of man's spiritual and social nature. Strongly critical of the atomistic individualism embraced by many libertarians, Kirk argued for a community of spirit in which generations are bound together by a shared acknowledgment of those enduring universal moral norms that form the basis of genuine civilized existence. "The permanent things," reflected in religious dogma, traditions, humane letters, social habit and custom, and prescriptive institutions, nurture the roots of genuine community—the final end of politics.
In his account of human nature, Kirk conceived of man as a flawed creature, his character mingled with good and evil, original sin accounting for man's proclivity toward selfishness and arbitrariness. "Men's appetites are voracious and sanguinary," he held, and must be "restrained by this collective and immemorial wisdom we call prejudice, tradition, customary morality."
Traditions play an indispensable role in developing man's moral nature. "Traditions are the wisdom of the race; they are the only sure instruments of moral instruction . . . ," wrote Kirk, "and they teach us the solemn veneration of the eternal contract which cannot be imparted by pure reason." A reliance on tradition, the funded wisdom of humanity, enables us to escape what T. S. Eliot called "the provincialism of time." Kirk adopted as axiomatic Burke's principle that the "individual is foolish; but the species is wise." "The permanent things," he wrote, "are derived from the experience of the species, the ancient usages of humanity, and from the perceptions of genius, of those rare men who have seen profoundly into the human condition—and whose wisdom soon is accepted by the mass of men, down the generations."
When we speak of traditions, explained Kirk, "we mean prescriptive social habits, prejudices, customs and political usages which most people accept with little question, as an intellectual legacy from their ancestors." They are accepted by the greater bulk of people as good because of their long standing. The fact that the previous generation has maintained these traditions to be transmitted to the rising generation gives them a certain authority, a presumption in their favor.
Kirk's defense of the role of tradition does not imply, as some of his critics have contended, a romantic longing for a lost golden age or a rigid resistance to all change. Rather, Kirk stressed that the work of genuine reform must take place within the context of sound tradition. "Traditions do take on new meanings with the growing experience of a people," he wrote, "And simply to appeal to the wisdom of the species, to tradition, will not of itself provide solutions for all problems. The endeavor of the intelligent believer in tradition is so to blend ancient usage with necessary amendment that society never is wholly old and never wholly new." Therefore, in a healthy society, he held, "tradition must be balanced by some strong element of curiosity and individual dissent." The task of the statesman finally is to preserve and reform at the same time.
Kirk primarily blamed modern industrialization and urbanization for the decay of tradition. The impulse for change, in Kirk's estimation, came largely from cities, where people are uprooted and detached from community and the fellowship of those with whom they share bonds of kinship and common experience. Conservatism, accordingly, prospers best in smaller, more stable communities where men are slow to break with the old ways that tie them to past generations and their religious foundations. "Tradition thrives where men follow naturally in the ways of their fathers, and live in the same houses," Kirk observed, "and experience in their lives that continuity of existence which assures them that the great things in human nature do not alter much from one generation to another." Hence, the guardians of tradition have been "recruited principally, although not wholly from our farms and small towns."
Kirk's enduring reputation as a major thinker of the twentieth century is assured as a consequence of his rediscovery and persuasive expression of a living conservative intellectual tradition. He was responsible for drawing conservatism away from utilitarian and individualistic premises, toward which it had veered in the 1950s, to a position rooted in community–conserving norms and culture. More broadly, he contended with considerable effect against the challenges of ideologies of both the Left and Right to the enduring moral and social order of Western civilization.
Kirk's Influence
In Reappraising the Right, George Nash says that the "significance [of Kirk's book] for American conservatism was to demonstrate that intelligent conservatism was not a mere smokescreen for selfishness. It was an attitude toward life with substance and moral force of its own. . . . After the appearance of The Conservative Mind, the American intellectual landscape assumed a different shape. Kirk's tour de force breached the wall of liberal condescension. He made it respectable for sophisticated people to identify themselves as men and women of the Right."
-George Nash, Historian
"Russell Kirk shaped my life—I think without his ever knowing it. I was an assistant professor at Indiana and quite determined to spend my life on the most important of all research—on the Ruler Cult of ancient Rome—and to determine whether or not the Romans believed their emperor was a god. And that's what I was going to do. Then I heard him [Kirk] lecturing on the philosophical historian. From then on I realized that there was more you could do in life and actually you could grow intellectually, spiritually, and morally."
– Dr. J. Rufus Fears, Professor at the University of Oklahoma
"The late Russell Kirk offered advice for this rising generation. 'Redeem the time,' he said. Redeem the dream – – in ways mundane as well as ways spiritual. 'Begin by brightening the corner where you are. By improving…yourself, and helping your neighbor. You will not need to be rich or famous to take your part in redeeming the time: what you need for that task is moral imagination joined to right reason.' … 'Moral imagination joined to right reason.' What a concise definition of conservatism. And the perfect guideline for success in things great and small."
– Mike Pence, Then-Congressman, Delivering a Speech Entitled "Redeem the Dream"
"In paying tribute to Dr. Kirk, I acknowledge my indebtedness to the man who first opened my mind to conservative thought. That occurred when I was in high school, working at a summer job that involved a lot of sitting-and-waiting, during which I read the very book whose publication date is marked today. For many years after that I was nourished by his other books, and by the scholarly journals The University Bookman and Modern Age that he edited. I once enjoyed the pleasure of visiting both of you—in connection, I believe, with a seminar sponsored by the Intercollegiate Studies Institute—at your famous Piety Hill home. No one has had a greater role in the formation of American conservative thought. And no more courteous (indeed, courtly) a gentleman, nor one more devoted to the United States of America, could be imagined."
-Justice Antonin Scalia
"Dr. Kirk helped to renew a generation's interest and knowledge of the underpinnings and intellectual infrastructure of the conservative revival of our nation. The values and ancient truths of our civilization have been the focus of his powerful intellect in such major works as The Conservative Mind and The Roots of American Order."
– President Ronald Reagan
"Russell Kirk was instrumental in popularizing the 18th-Century Irish politician-philosopher, Edmund Burke, who he told me during a youthful visit to Mecosta 'everyone must read.'"
– Jon Meacham, Journalist and Biographer
"I became familiar with Russell Kirk when I was pursuing my Master of Letters degree in English at Oxford University some 30 years ago. I wrote a thesis on the political philosophy of T.S. Eliot, and of course in the process of researching that project I read Dr. Kirk's masterful book The Conservative Mind: From Burke to Eliot. I left graduate school a journalist rather than an English professor, and as I got deeper into covering politics, I came to understand Dr. Kirk's lofty place in the intellectual history of the American conservative movement. When TIME asked me to write an essay on the state of the conservative movement today, I decided to focus on the philosophical tensions that now exist between the heirs of Kirk and the currently ascendant libertarian wing of the movement. There is a radical edge to some of today's libertarianism—an individualism so extreme that it is off putting to all but the disciples of Ayn Rand. A reading of Kirk serves to remind conservatives that their movement is also rooted in ideas of order, humility, community, and faith."
– David Von Drehle, Journalist and Writer for Time Magazine