The Society for Law and Culture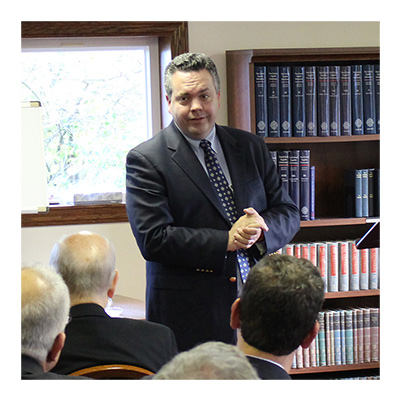 Formed by Maxwell Goss, a practicing attorney and former Wilbur Fellow, the Society for Law and Culture is an organization for lawyers, judges, professionals, and academics. Through engagement with the best of philosophy, literature, history, theology, and the arts, the Society aims to strengthen the ties between law and culture and promote a renewed sense of the law as a vocation and humane profession.
The Society gathered at the Kirk Center to discuss "Moral Imagination and the Law" for its 2018 seminar. A capacity audience of lawyers, judges, professors, and others came from Michigan, Ohio, Kansas, Texas, Alabama, Arkansas, California, Georgia, and Canada to meet and discuss issues of enduring importance in the law.
Edmund Burke famously wrote of the "moral imagination" which supplies the customs, morals, and ideas—in a word, culture—that lend humanity its unique dignity. In the words of Russell Kirk, the moral imagination "aspires to the apprehending of right order in the soul and right order in the commonwealth." Through a lively mix of lecture and discussion, each session of the 2018 seminar explored the role of the moral imagination in law and the practice of law.
The keynote lecture was delivered by the Honorable Caleb Stegall, Justice of the Kansas Supreme Court. Titled "Originalism and the Individual Jurist: Can T.S. Eliot Teach Us Anything About Constitutional Law?," Justice Stegall's presentation provided a short history of originalist jurisprudence and drew on poet and literary critic T.S. Eliot's reflections on tradition to address tensions within originalism.
The event featured several other distinguished speakers. The Honorable Stephen Murphy, U.S. District Judge for the Eastern District of Michigan, spoke on "Moral Imagination and the Trial Judge," which was followed by an address on "Knowledge and the Common Law Tradition" by Professor Allen Mendenhall, Director of the Blackstone and Burke Center for Law and Liberty at Faulkner University. Clare Nuechterlein, Distinguished Practitioner Emerita of Law at Valparaiso University, led a table read of the trial scene of William Shakespeare's The Merchant of Venice, followed by a lecture and discussion titled "When Mercy Seasons Justice."
The sessions were held at the library where Russell Kirk wrote his books, which provided a unique, convivial setting for participants to discuss the great ideas of Western civilization with peers in the legal profession and beyond. Participants were delighted to continue their conversations over lunch at the Kirk home.
Director Maxwell Goss commented: "The speakers were fantastic, and the participants' enthusiasm made for an enjoyable and enriching event. It was also great to see lasting friendships formed. This year's seminar absolutely advanced the Society's goals of better understanding the law and improving the practice of law through engagement with the intellectual, moral, and cultural foundations of our legal tradition."
See more information on the Society's leadership
and upcoming events.