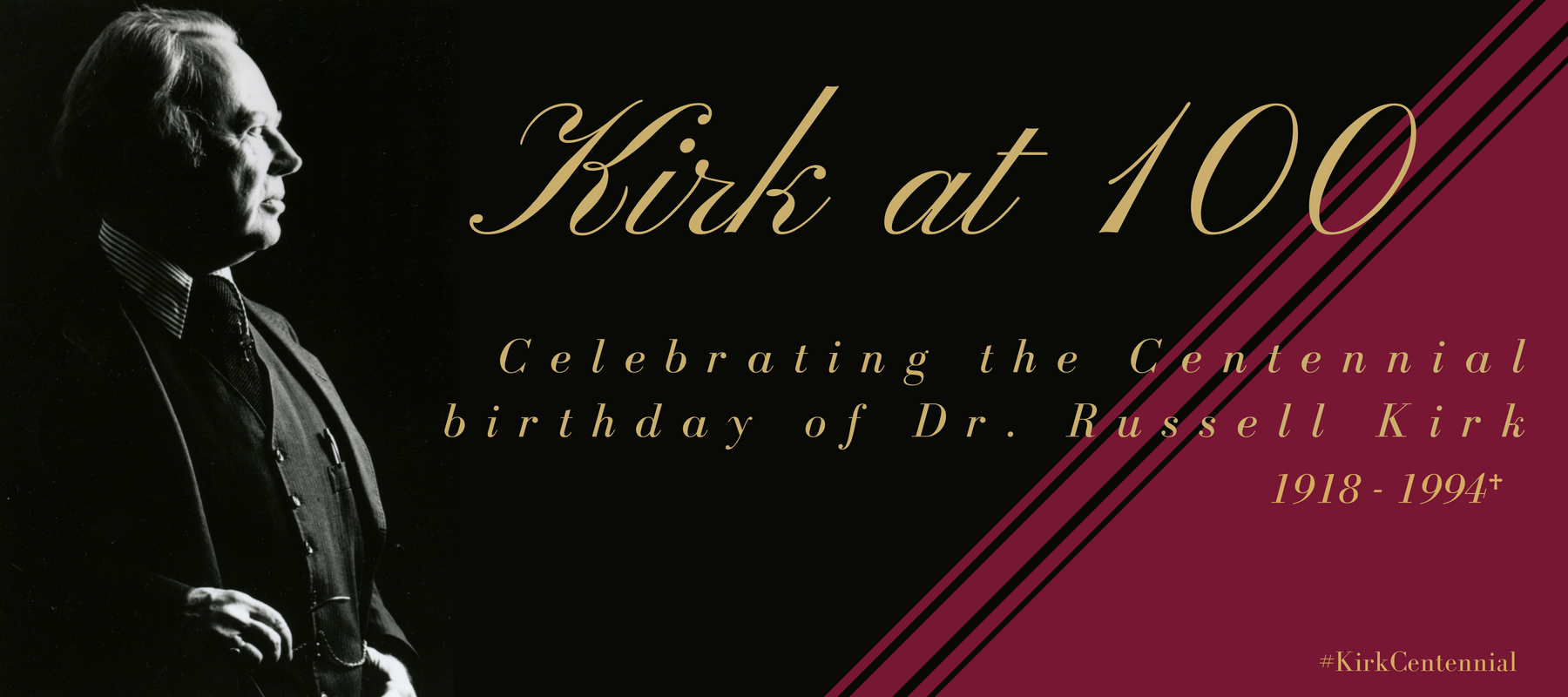 Russell Kirk was born on October 19, 1918 in Plymouth, Michigan. Renowned as the father of modern American conservatism, he was a historian of ideas, biographer, literary scholar, editor of serious periodicals, columnist, social critic, and frequent speaker on college campuses. For a concise biography of Dr. Kirk, comments on his legacy, and a featured essay, visit the about Russell Kirk page.
This year, the Center celebrates the centennial of his birth with a number of events and publications focused on Dr. Kirk's life and work.
Michigan Centennial Events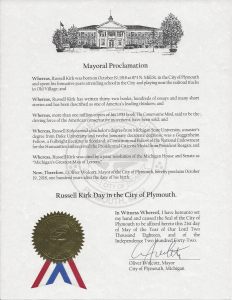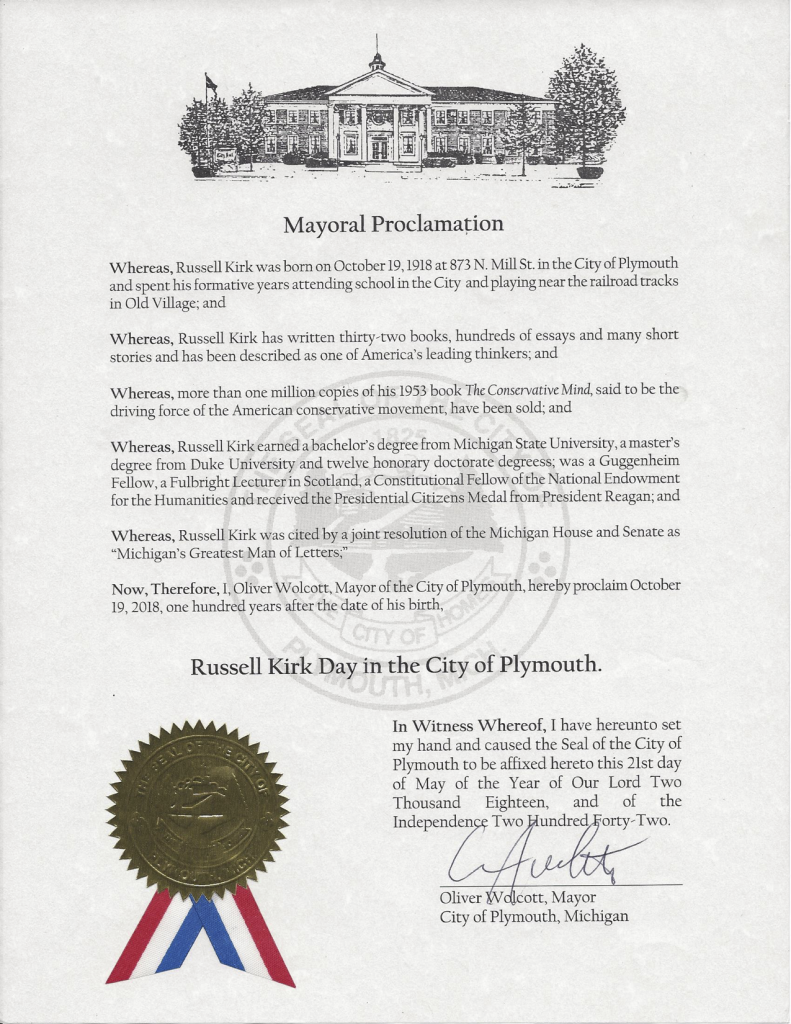 By Mayoral Proclamation, the date of October 19 has been declared "Russell Kirk Day in the City of Plymouth." The Plymouth District Library will host a book event with James Person, editor of Imaginative Conservatism: The Letters of Russell Kirk (University of Kentucky Press, 2018), to speak about Kirk the man and the writer. The lecture begins at 7:00 p.m. and will be followed by a reception with Annette Kirk and family. The Library will also have a display of Kirk-related artifacts.
On November 15, an important "Kirk on Campus" evening conversation panel will be held at Hope College in Holland, Michigan. "The Challenge of Contemporary Conservatism: Russell Kirk and the Populist Moment" will be discussed by John O'Sullivan, editor-at-large of National Review, the Reverend Robert Sirico, president of Acton Institute, Kathryn Jean Lopez, Senior Fellow at National Review Institute, and Dr. Jeff Polet, professor at Hope College. Co-sponsored by Hope College Political Science Department, National Review Institute, and the Acton Institute, this major event at the beautiful Jack Miller Auditorium is open to college students and the public. Register here.
Centennial Events Around the Country
October 3 | "Liberalism, Conservatism, & the American Founding," a symposium on Dr. Kirk's book The Roots of American Order. Panelists: Ted McAllister, Professor of Public Policy, Pepperdine University; Samuel Gregg, Director of Research, Acton Institute; Daniel McCarthy, editor, Modern Age. Moderator: Ryan Streeter, Director of Policy Studies, AEI.
The American Enterprise Institute, Washington, DC. Watch the video here.
October 12 | "Conservative Confusion: Why We should Read Russell Kirk in 2018," lecture by Bradley Birzer, professor of history and the Russell Amos Kirk Chair in American Studies at Hillsdale College. This event is part of the McConnell Center's "American Political Culture" lecture series inspired by Alexis de Tocqueville's Democracy in America. The University of Louisville, Kentucky.
November 13 | "Kirk, Conservatism, and the Next Century," panel discussion with John O'Sullivan, editor-at-large of National Review, Gerald Russello, editor of The University Bookman, and Daniel McCarthy, editor of Modern Age. As an historical note, Dr. Kirk wrote a column on education for 25 years for National Review, and founded both The University Bookman and Modern Age, journals which continue to flourish today.  Co-sponsored by the National Review Institute. New York City Union League Club. 5:30 – 7:30 p.m. Register here.
November 17 | The Edmund Burke Society will gather to address the topic "Edmund Burke, Russell Kirk and Revolution in the Modern Mind." Wilfred McClay, Chair in the History of Liberty at the University of Oklahoma, is the featured speaker. The open panel session on selected texts will provide for lively interaction among the participants. Belmont Abbey College, NC. Full conference details can be found here.
Show your support during the Kirk Centenary
Support the Kirk Center with a donation of $100 or more by December 31, 2018, to help us mark the centennial year of Russell Kirk's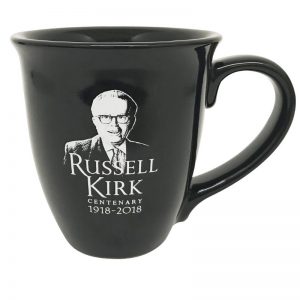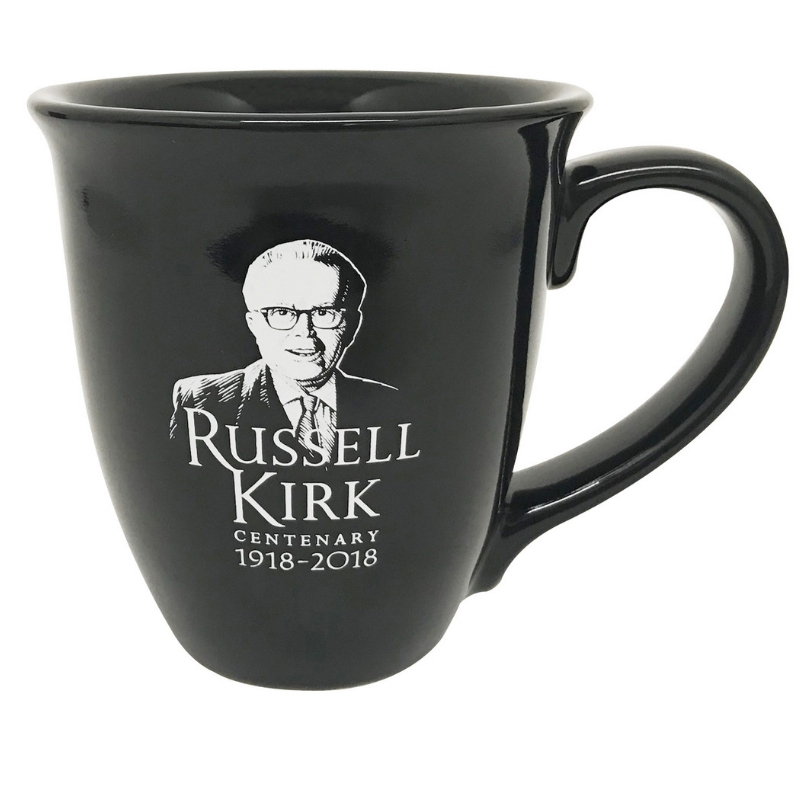 birth. As a thank-you gift, you will receive a limited-edition, commemorative mug with a portrait of Kirk designed by artist Sam Torode.
(NB: Shipping available to U.S. addresses only.)