Kirk Center's Founding Chairman, State Senator Joanne Emmons, Passes Away. She Led the Center for 27 Years.
On March 31, 2022, The Russell Kirk Center lost its founding chairman, Joanne Emmons. Joanne died peacefully at age 88 in her hometown of Big Rapids, Michigan.
Since its inception in 1995, the Russell Kirk Center was blessed to have State Senator Joanne Emmons serving as chairman of its Board. No one did more to encourage and guide the Kirk Center than did Joanne. She was a steady leader and a loyal supporter of the Center's mission.
Joanne first met Russell Kirk at a Farm Bureau talk in the 1950s. A native of Big Rapids in Mecosta County, Joanne and her husband John, a farmer, became frequent participants in seminars and gatherings at the Kirks' home.
During her time in the Michigan Legislature, Joanne served first in the House of Representatives for two terms and then in the Senate for three terms between 1987 and 2002. She was a political pioneer, becoming the first woman in Michigan history to be elected Senate Majority Leader.
Her support of the Russell Kirk Center's mission through the decades was memorialized in 2020 during the Center's 25th anniversary campaign. At that time, she was admitted to the Kirk Center's Edmund Burke Circle as a "defender of the permanent things."
Kirk Center Co-Founder and Executive Director, Dr. Jeffrey Nelson, remarked that "Joanne possessed several qualities that made her the perfect person to lead the Kirk Center for nearly three decades: she understood the role of prudence in practical politics, she possessed a keen moral imagination, and she is that model politician that both Burke and Kirk admired, one capable of pursuing needed reforms while maintaining a disposition to preserve." Jeff also noted that "Joanne always inspired her fellow board members by her passionate commitment to first principles and her cheerful hopefulness. The Kirk Center quite simply would not have made it through its early years without her patient, experienced, and encouraging leadership."
While the Center mourns her death, her example and spirit will remain with us and help guide us. As Annette Kirk reflected, "It was a privilege to be associated with Joanne and we know she is now enjoying, once again, the companionship of her husband, John, who preceded her to Heaven's gate."  Requiescat in Pace.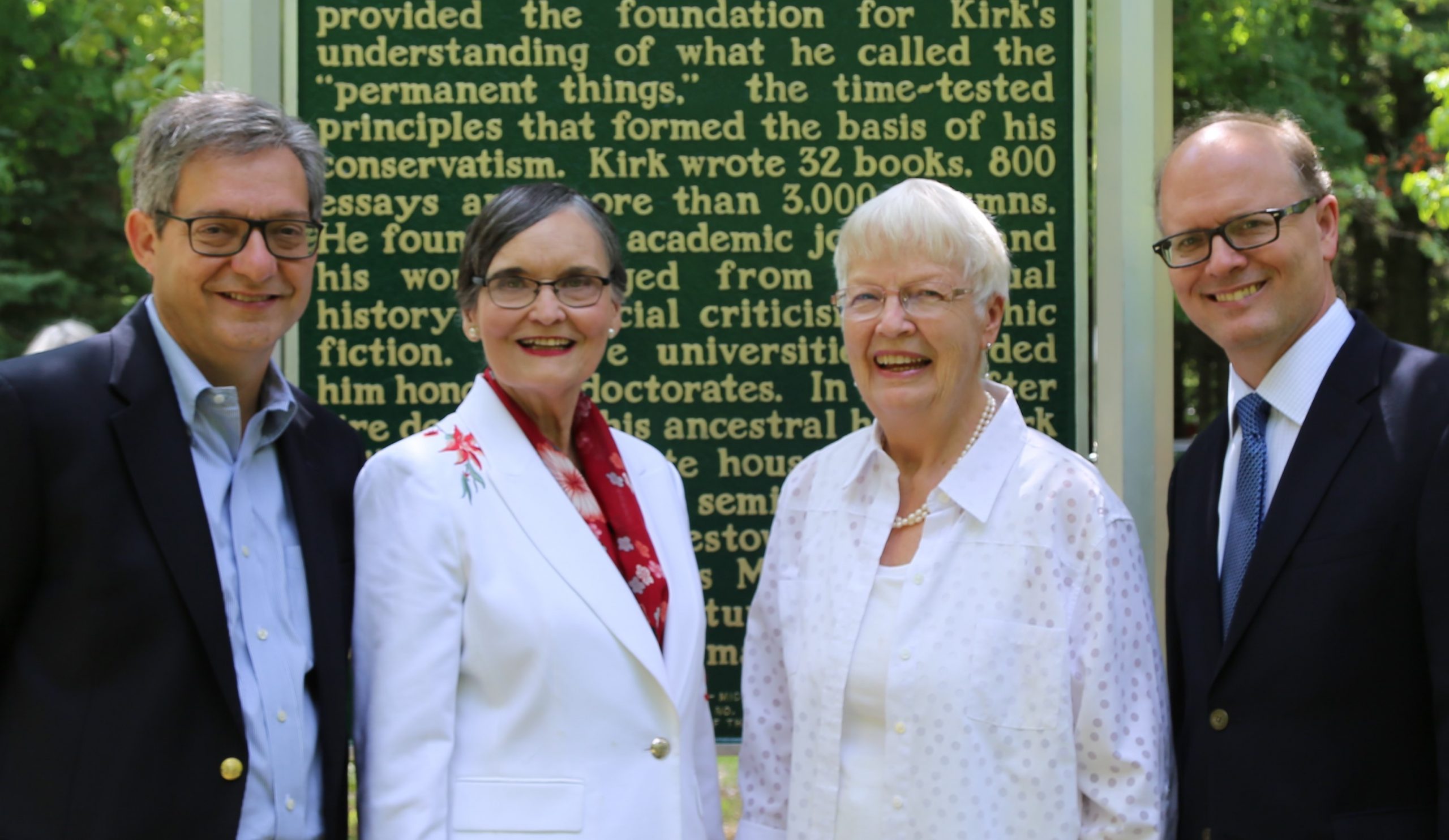 Joanne Emmons spoke at the dedication of the Michigan Historic Marker honoring Russell Kirk in 2019. She is pictured here with Kirk Center board members David Khorey, Annette Kirk, and Jeff Nelson.
More From Our Highlights & News
The Kirk Center welcomed interns from the Mackinac Center for Public Policy for a seminar on specific dimensions of "The Politics of Prudence" this summer. Kirk Center trustee and director of Save Our States, Michael Maibach, gave a broad historical, political, and...