The Great Books podcast features Luke Sheahan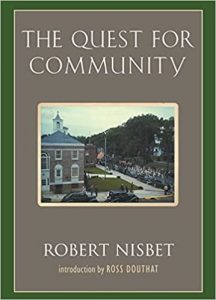 On The Great Books podcast, host John J. Miller was joined by Luke Sheahan, editor of 
The University Bookman
, to discuss Robert Nisbet's landmark book, 
The Quest for Community.
 Sheahan gives a wonderfully lucid presentation on Nisbet's argument that the human drive for community is a fundamental cause of action and its prescience for the family, associations, and politics today. In addition, he outlines his vision for 
The University Bookman 
at the 32-minute mark.
You can listen on Apple Podcasts here:
https://podcasts.apple.com/us/podcast/the-great-books/id1281089527?i=1000598460510.
More From Our Highlights & News
On November 2 – 4, the Russell Kirk Center welcomed Public Policy Fellows of the Fund for American...