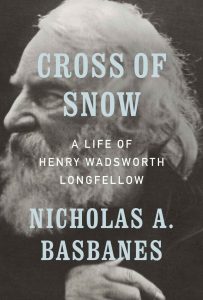 Cross of Snow: A Life of Henry Wadsworth Longfellow
by Nicholas A. Basbanes.
Knopf, 2020.
Hardcover, 461 pages, $37.50.
Reviewed by William F. Meehan III
Henry Wadsworth Longfellow faded so far into American cultural memory that it is easy to forget he was the country's preeminent poet of the nineteenth century, from whose pencil came these unforgettable lines:
"Ships that pass in the night"
"Footprints on the sands of time"
"When she was good, she was very, very good"
"The patter of little feet"
"One, if by land, and two, if by sea"
"I shot an arrow into the air, / It fell to earth, I know not where."
Moreover, nearly every American grade schooler through the Summer of Love listened yearly to their classmate with the polished rhetorical style recite the most memorable poem in American literature, whose opening lines are ingrained onto the their minds: "Listen, my children, and you shall hear / Of the midnight ride of Paul Revere."
What made Longfellow's poetry perfect for reciting by the fireside or in the schoolroom—rhyme, meter, cadence, and memorability, for sure; plus a sensitive and cheerful expression of familiar themes (love for children, home life, patriotism, religion) told in a sentimental voice—also contributed to his being expunged from the literary canon when the paradigm for proper poetic expression was upended by Modernism. The Ivory-Tower movement of the 1900s heralded a "new" style of criticism based on the theory that poetry was the product of enlightened intellectuals whose reader was equally learned in the rarified ways of literary interpretation. Poetry was no longer something for the enjoyment of the "common" reader snuggled in the den wrapped in a wool blanket but was instead an esoteric code of syntactic complexity to be deciphered by literary cognoscenti ensconced in the cloak of perceived sophistication.
As a result, Longfellow's abundant lyrical work—including outstanding examples such as "My Lost Youth," "Hymn to the Night," "Psalm of Life," "The Children's Hour," "To a Child," "From My Armchair," "The Hanging of the Crane," "The Old Clock on the Stairs," "Footsteps of Angels," "The Two Angels," "The Reaper and the Flowers," and his last poem "The Bells of St. Blas"—was declared too simple. His verse, in other words, was too easily comprehended by an audience thought naive, even uncouth. Despite his prolific use of elaborate metrical schemes such as dactylic hexameter or rhymed trochaic tetrameter, the latter adding a musical quality advertising copywriters should envy, Longfellow was considered, oddly enough, too straightforward and intellectually undemanding.
Longfellow's book-length narrative works (Evangeline, Song of Hiawatha, Courtship of Miles Standish, and Tales of a Wayside Inn), which had secured his position among contemporaries as a superior storyteller with a remarkable repertoire of metrical versification who bestowed on American culture two national myths, also were cast aside, now considered downmarket titles that drew too heavily on European literary convention and ended inconclusively. In their place, Modernism favored the non-narrative epic form found in Leaves of Grass, while Dickinson's poetry was thought illustrative of the lyric as it should be—short, unrhymed iambs was the preferred verse and darkness the desired symbol.
That Longfellow achieved unparalleled international acclaim; that Longfellow published copious, critically celebrated translations from ten modern languages, plus his crowning achievement with Dante's Divine Comedy; that Longfellow outsold Tennyson and Robert Browning at bookstores in the United Kingdom; that Longfellow remains the only American poet to be honored with a bust in Poets' Corner at Westminster Abbey—all that, too, was dismissed with an air of distaste, an unkind snub to a man thought overflowing with decency. The brilliant lyric and narrative poet believed a national treasure by the reading public and held in high esteem by contemporaries was snuffed out by the juggernaut of Modernism.
A renewed appreciation for Longfellow's place in the American literary landscape began with "Longfellow in the Aftermath of Modernism," the influential essay by former NEH Chairman Dana Gioia published in 1993, more than a century after the poet's death. Longfellow, Gioia argued, is the most versatile poet in America literature and deserved a fresh look. Others inspired by this reasoning have revisited Longfellow since then, focusing on his public life as a master of versification.
In Cross of Snow: A Life of Henry Wadsworth Longfellow, however, Nicholas A. Basbanes contributes to the well-deserved renaissance in Longfellow studies with a warm and authoritative examination of the once-beloved nineteenth-century American poet's personal life. Basbanes, himself a Bay Stater with a journalist's nose for getting the story and a novelist's knack for telling it (A Gentle Madness, Patience & Fortitude, On Paper), relies on research culled from "a wealth of untapped archival and artifactual materials" as well as the previously unavailable complete body of surviving correspondence along with diaries, notebooks, and journals of Fanny Longfellow, the poet's second wife. Access to 812 of Fanny's letters thus allows for a more complete consideration of her and enriches Basbanes's interpretation of her relationship with Longfellow.
Longfellow madly in love is the leitmotif propelling the central story in Cross of Snow, nearly from beginning to end. It is difficult to find fault in the ebullient Longfellow when struck by Cupid arrow: "A glorious and beautiful being—young—and a woman not of talent but of genius!—indeed a most rare, sweet woman whose name is Fanny Appleton," Longfellow exclaimed in a letter to close friend George Washington Greene. Like for Romeo, whose Juliet "doth teach the torches to burn bright," it was love at first sight for Longfellow on that July 1836 morning in the Swiss resort town Interlaken when he by chance met Fanny and, along with others, shared a carriage ride along the Alpine trails. Longfellow, however, "found himself soundly rebuffed" in Switzerland and back home in Cambridge, where he was teaching at Harvard and where Fanny, who lived across the Charles River in Boston, "was as cool as the East wind." In another lengthy letter to Greene, the pining Longfellow described his misery:
And first of the 'Dark Ladie,' who holds my reason captive. As yet no sign of yielding. As stately and sublime, and beautiful as ever! While I likewise sail with the flag nailed to the mast, to sink or conquer. She has been in the country all Summer, and has at length returned to town. But we seldom meet; never except by accident. I have given up society entirely: and live alone here, grim as Death, with only that one great thought in my mind. Meanwhile crowds are about her; and flatterers enough; and all the splendor of fashion, and suitors manifold. My hope and faith are firm and planted in my righteous cause. If there be any difference between men and those about her—if our souls can understand each other—she will sooner or later find it so. If not—then I take this disappointment likewise by the hand; I bide my own time. But my passion is mighty; gigantic;—or it would not have survived this. Meanwhile I labor and work right on with that heart and courage I may, and despise all sympathy; and am quite reasonably cool for a mad-man.
Longfellow's emotions swayed from "leaden melancholy" to "feverish excitement" for five years when, finally, in July 1843 Fanny married him. "The union," Basbanes writes, "was transformative, giving him a second chance at a happiness he feared had been lost forever with the untimely death of his first wife eight years earlier, and it was a relationship that thrived on intellect as much as romance." Moreover, theirs was "a love story of uncommon power, poignance, and significance" that Longfellow celebrated in "The Cross of Snow," a posthumously discovered sonnet written exactly eighteen years after Fanny's horrific death caused by a fluke fire at their home.
Basbanes opens the doors to Craigie House, the Georgian mansion built in 1759 that Fanny's father purchased as a wedding gift for his son-in-law. Once the headquarters for General George Washington, it was called "Camelot on the Charles" by Basbanes, and for good reason. Longfellow was an accommodating, gracious host who took pleasure in welcoming "a diverse succession" of travelers from afar and from all walks of life with whom he could converse in any number of foreign languages. He regularly served excellent champagne and cold oysters and had "[a] plentiful supply of fine wines racked in his cellar [along with] a fulsome inventory of silver coasters and a variety of fine crystal glassware."
Longfellow was an insatiable reader and "treasured his books," all 11,799 volumes in his collection still shelved at the house, now a historic site managed by the National Park Service. "Of its character," Basbanes explains, "it can be said the contents are cosmopolitan to the extreme. And while there is no formal catalogue, there is a decided sensibility to the arrangement that proceeds associatively from bookcase to bookcase and from room to room—there is nothing haphazard or willy-nilly about the organization."
Longfellow's routine was smooth and continuous. According to daughter Alice, the fourth of six children he had with Fanny, "There was really no line of demarcation between his life and his poetry. One blended into the other, and his daily life was poetry in its truest sense. The rhythmical quality showed itself in an exact order and method, running through every detail. This was not the precision of a martinet; but anything out of place distressed him as did a faulty rhyme, or defective metre." Pretentious Longfellow was not, for his temperament was "thoroughly poetic and rhythmical, full of delicate fancies and thoughts," according to Alice. "Even the ordinary details of existence were invested with charm and thoughtfulness."
Longfellow held a professorship in modern languages for five years at Bowdoin, his alma mater, and later at Harvard, where he spent nearly two decades. Lecturing in the classroom, however, left him frustrated and unfulfilled: "Perhaps the worst thing in a college life is this having your mind constantly a playmate for boys, constantly adapting itself to them, instead of stretching out and grappling with men's minds." From the time he published his first poem, at the age of thirteen, Longfellow aimed for a career editing a journal and writing full time: "I most eagerly aspire after future eminence in literature; my whole soul burns most ardently for it and every earthy thought centers on it," the college junior expressed in a letter to his father, a lawyer hoping his oldest son would join him in the practice. But since his earliest days in the professoriate, Longfellow had always "aimed higher" for an "opportunity to distinguish myself." He thus delivered his final lecture at Harvard on April 19, 1854, and over the next three decades, and particularly after Fanny's death in 1861, fulfilled his driving ambition to write, producing a number of sonnets—thirty-three in the final ten years of his life—and much more of course.
"Fundamental to everything" Longfellow would become, Basbanes argues, was his year abroad after college in 1825. It was during this tour of Europe that Longfellow, at the age of nineteen, became a worldly citizen assimilating to cultural mores, soaking up history, and mastering languages. "His cosmopolitan views of life and literature, which considered now in retrospect are leagues ahead of their time," no doubt contribute to the Longfellow revival. Longfellow was, for Basbanes, "discreet, loyal, and principled to a fault," and the European experience also might have heightened his natural compassion and goodwill. For example, Longfellow was anti-slavery, but he shied away from public statement other than in a group of poems, which stopped short of condemning slaveowners. He expressed relief that he was "not filled with the rancor that politics engenders" and wrote, in a poem that brought tears to President Lincoln's eyes, "For gentleness and love and trust / Prevail o'er angry wave and gust." What is more, the motto appearing on Longfellow's bookplate, Non clamor sed amor ("not clamor but love"), accentuated not only his attitudes but also his manner.
Longfellow, the "dreamer of dreams," ended his final poem with a declaration of his reverie, "It is daybreak everywhere." Cross of Snow will leave readers in sympathy with the sentiment that his was a dignified "life lived well and lived in full."
---
William F. Meehan III is head of the Blackford Oakes Fan Club and publications editor at the Lewes Historical Society.