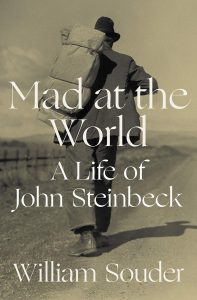 Mad at the World: A Life of John Steinbeck
by William Souder.
Norton, 2020.
Hardcover, 464 pages, $32.
Reviewed by Margot Enns
In a key scene in John Steinbeck's East of Eden, Cal, the darker, moodier brother, blackmails his brother, Aron, to keep quiet about Cal's eavesdropping. He threatens to steal a knife and blame it on Aron: "Cal saw the confusion and helplessness on Aron's face and felt his power, and it made him glad. He could outthink and out plan his brother." Then there is a sudden shift: "Aron … was a lump of soft mud in his hands. Cal suddenly felt a deep love for his brother and an impulse to protect him in his weakness."
Steinbeck, too, could oscillate between cruelty and empathy, as William Souder shows in his new biography of the novelist. Steinbeck used his friends' experiences in his stories and yet refused to help them in their own pursuits. He both loved and cheated on his wife. He stood up to those bullied in school and in the military and yet abused his toddler sons. Like many great writers, he was opinionated, passionate, but those close to him often suffered.
Mad at the World is one of the most nuanced biographies of Steinbeck to date. In it, we get the man in full—one who hated tax season and loved his dogs more than his women. As a child, Steinbeck was both imaginative and melancholic. He was "the ringleader" of his Huckleberry Finn troupe of friends, inventing imaginary lands—to which his friends would "travel" and conquer. Mary, his sister, would join them, and Mary and Steinbeck would often communicate in a secret language derived, Souder thinks, from Steinbeck's favorite book, Le Morte d'Arthur.
Unlike many prominent American novelists who started as reporters, Steinbeck came to reporting later. He went to Stanford to become a writer, and though he was bad at attending class, he apparently rarely missed the writing course of Elisabeth Mirreles, who believed that unique ideas, more so than experience, were the driving force of good writing.
Steinbeck, however, believed in experience. After six years at Stanford, he dropped out of university with no degree and traveled from California through the Panama Canal and Cuba to New York. In his brief time there, he worked long hours on the construction crew of Madison Square Garden for a dollar an hour, two on Sundays. He tried his hand at reporting, but found that he "was so timid and empathetic that he could hardly … write stories about … anyone's misfortunes."
He was miserable in New York. The hard labor on the construction crew drained him mentally and physically, which made it difficult to write. Even when he was a reporter, he found the city bleak. The dark gray, towering buildings made him miss the earthy, open land of California. He was fired from his reporting job and worked as a freelance writer. The dark city and Steinbeck's melancholic tendencies made New York a lonely place.
He left for Lake Tahoe in the fall of 1926, where he would meet his first wife, Carol. She "had an uncanny ear for the way Steinbeck wanted his writing to sound," and would become a huge asset in refining Steinbeck's work. She would edit his books as she typed them from his handwritten pages. Early in their relationship, they often traveled to local diners, and Steinbeck would soak in the different characters and dialects in the restaurant. Carol and Steinbeck enjoyed a Lost Generation-esque community at Pacific Grove, surrounded by friends and fellow thinkers who discussed ideas and projects. However, unlike many actual Lost Generation writers, who enjoyed coffee and liquor at cafés on Paris's cobblestone streets, Steinbeck, perhaps with his fiery pink hair—a failed bleach attempt—enjoyed cans of beer while tanning nude in the hot, California sun.
One member of that community was Ed Ricketts, a lifelong friend who shared Steinbeck's philosophical bent. Ricketts, a marine biologist, and owner of Pacific Biological Laboratories, later became Steinbeck's future travel and writing partner for Sea of Cortez. He inspired Steinbeck's short story, "The Snake," and one of the main characters in Cannery Row, Doc. Joseph Campbell, a brief member of the group, noted that "the presence of a scientist played against John's rather romantic philosophy. It was a philosophical relationship."
During his relationship with Carol, Steinbeck wrote most of his well-known works, including Tortilla Flat, Of Mice and Men, and Grapes of Wrath. Steinbeck's uncanny ability to describe the world in a comical and graceful way comes through in his earlier work, Pastures of Heaven, the horror story of an infectious curse that permeated the valley residents through "sickness, obsession, insanity, morbid preoccupations, and grotesque physical afflictions." The indifferent curse affected anyone regardless of their "fault" with it. In a brief line in Pastures of Heaven, Steinbeck peculiarly describes a decrepit home in which "Small boys, those lieutenants of time in its warfare against the works of man, had broken out all the windows and carted away every movable thing."
Steinbeck's Grapes of Wrath would show that his sincerity "had few equals" in literature, as one critic put it. For Souder, Steinbeck is not just sympathetic, but discerning. His ability to see "that the migrants—faceless, homeless, voiceless—were human beings, and that it was both possible and essential to know them" set him apart as an author. Yet, in his compassion, Steinbeck's Grapes of Wrath is driven as much by sympathy for the poor as anger at the poor's oppressors—particularly the banks. In a scene where an evictor kicks nameless tenants off their land, he describes grim circumstances if they try to fight back: "You'll be stealing if you try to stay, you'll be murderers if you kill to stay. The monster isn't men, but it can make men do what it wants." Here, the desperation of the tenants and anger towards the evictors "got inside you," according to Clifton Fadiman. Covici, his editor, agreed, noting that "No other author … could get so mad at the world with such grace."
He could get mad at other things, too, however, with much less grace. Here, Souder, unlike previous biographers, does not attempt to justify Steinbeck. Instead, Souder shows us Steinbeck's many contradictions. He was a man who "could not tolerate a bully," but who would become the bully of his sons and second wife, Gwyn. For example, he once taught his toddler son lessons in trust by, after catching his son jumping from a chair, refusing to catch him a second time, citing a lesson in learning not to trust. He was more faithful to his dogs than his family—he would rather discipline his child for letting an ill-behaved dog in the home than the dog who messed up the carpet. After five years with Gwyn, Steinbeck, a self-proclaimed "sucker for hanging on," divorced her and married his third wife, Elaine.
Near the end of his life, Steinbeck went back to his roots—he attempted to translate his lifelong inspiration, Le Morte d'Arthur, and wrote East of Eden. His translation of Le Morte d'Arthur left his agent, Otis, "disappointed," but East of Eden was praised for its "complex structure" and "Steinbeck's ability to live inside other cultures."
Souder's biography does what Steinbeck claimed the purpose of a writer should be: "exposing our many grievous faults and failures, dredging up to the light our dark and dangerous dreams [and reflecting] … man's proven capacity for greatness." Souder presents Steinbeck's wavering contradictions throughout his life—his fear and desire for success, his hatred of both good and bad reviews, his love for women, yet difficult marriages, his compassion for the disenfranchised and yet his philosophy that, as Souder puts it, the world is "'not driven by some external imperative but simply exists' … [which] offered no comfort to the disadvantaged." But his capacity for greatness comes through in his novels.
His imaginative descriptions of a mediocre, unremarkable world set him apart as a writer. In East of Eden, old age occurs when "tissue, which had fought joyously from time to time, gave up a little," and time passes with "each storm wait[ing] courteously until its predecessor sank beneath the ground." Steinbeck's physical description of George, in Of Mice and Men, as a "defined" man also hints at his personality and role in Lennie's life. While critics accused Steinbeck for being inconsistent, Souder notes, one—James Gray—saw "a linkage among all of them … Steinbeck's anger. He was America's most pissed-off writer." 
---
Margot Enns has a BA, major in English from Regent University. She lives in Victoria, British Columbia.