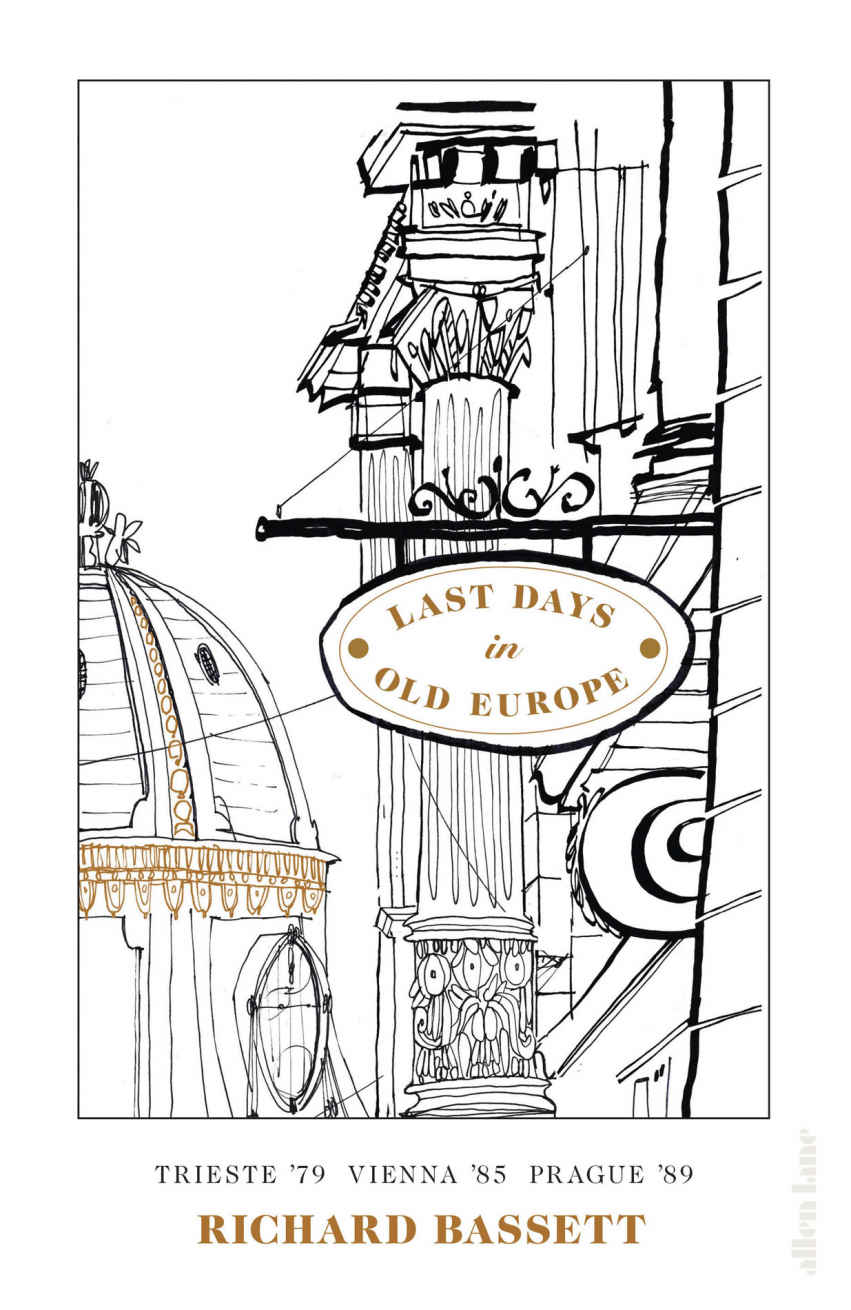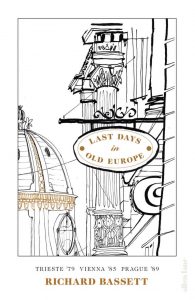 Last Days in Old Europe: Trieste '79, Vienna '85, Prague '89
By Richard Bassett.
Allen Lane, 2019.
Hardcover, 207 pages, $35.
Reviewed by Kevin J. McNamara
Empires demand histories as imperious as their subjects, but their aftermath, as this work by Richard Bassett illustrates, is best approached by memoir, the solitary and idiosyncratic search for heirs and relics, living progeny and surviving fragments. Last Days in Old Europe reveals a great many fragments, extant and forgotten, from the Austro-Hungarian Empire—as well as glimpses of a collapsing Soviet Empire—during Bassett's time living and working in Central Europe from 1979 to 1989.[1] If Oscar Wilde was correct that "history is gossip," then Bassett serves up a delicious cocktail of the very best kind—polite, learned, and insightful, merely leavened with touches of history and geopolitics, making one thirsty for more.
Mitteleuropa fascinates as the sought-after prize, trampled victim, or beleaguered borderland of empire. Parts of Central Europe were absorbed into the northern precincts of the Roman Empire, the eastern flanks of the Holy Roman Empire, the southern extent of the Polish-Lithuanian Commonwealth, and the northern reaches of the Ottoman Empire. Most—yet not all—of Central Europe was united by the Austro-Hungarian Empire, which by 1914 occupied present-day Austria, Bosnia-Herzegovina, Croatia, Czechia, Hungary, Slovakia, Slovenia, northern Italy, southern Poland, and the western regions of Ukraine and Romania. Its Habsburg dynasty led 52 million people into World War I as a great power, but by 1918 Austria-Hungary and its Habsburg rulers vanished so completely that almost no one today can recall them. In its place, new countries, such as Czechoslovakia and Yugoslavia, emerged, only to be embroiled in Nazi aggression from 1938, swallowed up in a Soviet Empire until 1989, and now being lured—and not so easily—into a transatlantic empire ruled from Brussels and Washington.
The subtitle lists Trieste, Vienna, and Prague as Bassett's haunts, but he traveled much more widely, meeting scores of interesting characters along the way. Bassett's first stop is Trieste, the once-bustling Mediterranean port and rail head of the Austro-Hungarian Empire, which was awarded to Italy in 1918 for its adept decision to join the Allied war effort. By January 1979, when a train deposits the twenty-two-year-old recent Cambridge graduate into the heart of its faded glory, Trieste was a port without a hinterland, much of it now behind Soviet barbed wire.
Trieste, like Vienna, instead offered memories, such as the day in 1914 when a launch took Archduke Franz Ferdinand to a waiting warship and a fateful journey to Sarajevo, and a few days later, when another launch brought the Habsburg heir and his wife, Sophie, back in coffins. The city had many happier memories, of course. While not mentioned by Bassett, James Joyce lived an entire decade in Trieste, where he wrote most of his major works. "I cannot begin to give you the flavor of the old Austrian Empire," Joyce said. "It was a ramshackle affair but it was charming, gay, and I experienced more kindnesses in Trieste than ever before or since in my life … Times past cannot return, but I wish they were back." [2]
Here, Bassett meets Countess Korwin (Blanka), who was born in Turkey while her father served as Austria-Hungary's naval attaché in Istanbul. A grandfather had been Austria's feldmarschalleutnant in Croatia and commander of Zagreb, today its capital, when Croatia was little more than the Habsburg military frontier, protecting the Empire from Ottoman Turkish armies. Blanka would marry an Italian prince and, upon his death, become involved with the finance minister to King Zog of Albania. In the 1930s, she had a tempestuous affair with the last British ambassador to Nazi Germany, but back in Albania, a communist regime imprisoned and tortured her. In her golden years, Blanka wore her scars with "the faint hauteur which was second nature to that generation of European nobility."
He explores a diminutive architectural pearl of Austria-Hungary, Ljubljana, today the capital of Slovenia, then a backwater in Marshal Tito's communist Yugoslavia. With Tito's death in May 1980, this multinational state is about to collapse, yet Bassett ventures to the Opera House, French horn in hand, and auditions before a Soviet-style collective of musicians and the venue's doorman—after all, the appearance of equality was very nearly realized under communist regimes. Bassett was offered the post of principal horn, a position he held for three years.
Posted to Vienna as a correspondent for The Times, his first impression of the city from his room is striking: "I was in the heart of a once great imperial capital, but I heard nothing. Even after opening the double windows, I could barely detect a sound." In 1982, "an old friend" unexpectedly invites Bassett to Waldstein Castle to meet Zita of Bourbon-Parma, the last Empress of Austria-Hungary, now age ninety and returning home for the first time since she and her husband, the last Habsburg emperor, departed in 1919. Still full of life, he recalls, "The Empress was keen to emphasize that her husband had repeatedly tried to persuade his German allies not to send Lenin back to Russia in the famous plombierten zug (sealed train). 'He knew that Lenin was a virus, gift (poison).' The word was articulated with such force it appeared almost to ricochet off the walls of the room."
In Pannonhalma, Hungary, he visits a Benedictine monastery, which hosts the heart of her son, Otto, the eldest son and nominal heir of the last emperor, Charles. The rest of Otto, who died in 2011, lies in the family's Capuchin crypt in the old capital of Vienna. The Hungarian Catholic monastery survived because its boys' boarding school was sought after for the sons of Communist Party leaders.
In 1989 in Cetinje, Bassett witnesses the reburial of the remains of the last Montenegrin king, Nikola I, in the family crypt in the mountains above this former royal capital of Montenegro. Having taken the throne in 1860 and secured independence for Montenegro by 1878, Nikola nevertheless was thrown to the curb in 1918, like so many other monarchs, and was initially interred in Italy.
Venturing to Poland to report on the Gdańsk shipyard revolt that challenged its communist regime, Bassett is swarmed at a train station. His wallet goes missing and he embarrasses the regime with—a police report. He writes, "I had been in Warsaw for rather less than twelve hours and, although I had not yet written a single word or even sat down at my desk, I had already been robbed, dragged from my bed to be given an official dressing down, and threatened with expulsion."
Bassett's cast includes Max Thurn, a direct descendant of a count who helped throw three Habsburg Imperial aides from a window of Prague Castle in 1618, sparking the Thirty Years War; Gaby Seefried, a favorite secretary of Hitler's spy chief, Admiral Canaris (executed for conspiring against Hitler), now married to Emperor Franz Joseph's favorite great-grandchild, making Gaby a countess; Lech Walesa, leader of the workers at Gdańsk; the conductor Kurt Masur, then kapellmeister of the Leipzig Gewandhaus Orchestra and soon to lead the New York Philharmonic, joining the demonstrations in Leipzig in 1989; and earlier that year, Shirley Temple Black, the former Hollywood child film star then serving as U.S. ambassador to Czechoslovakia, whom Bassett finds sheltering demonstrators from baton-swinging police inside a Prague hotel lobby.
My complaints are minuscule. In addition to music, Bassett is a serious student of architecture, which explains his eye for a Biedermeier bed, Biedermeier table, Biedermeier furniture, Biedermeier columns (interior), Biedermeier bungalow, Biedermeier inscription, Biedermeier detailing (which is "lovely"), and three Biedermeier freiwillige durchgänge (pedestrian thoroughfares), as well as his concluding acknowledgement of "the ubiquitous Biedermeier style." His good eye needed a better editor, one who might have suggested a few words on the character of this style. Some stage-setting would have helped, too, since Bassett jumps around the map and across time, and many readers would have benefitted from brief highlights of key events that were transpiring in the places he visited.
A memoir can breathe life into history, and this is indeed Bassett's achievement as he breathes new life into shattered kingdoms, their now-moldering cast of characters, and all of the fascinating stories that would otherwise vanish with them.
---
Kevin J. McNamara, an associate scholar of the Foreign Policy Research Institute in Philadelphia, is the author of Dreams of a Great Small Nation: The Mutinous Army that Threatened a Revolution, Destroyed an Empire, Founded a Republic, and Remade the Map of Europe (Public Affairs, 2016).
---
[1] I define Central Europe as including Albania, Austria, Bosnia-Herzegovina, Bulgaria, Croatia, Czechia, Estonia, Greece, Hungary, Kosovo, Latvia, Lithuania, Montenegro, North Macedonia, Poland, Romania, Serbia, Slovakia, and Slovenia. On the other hand, Belarus, Moldova, and Ukraine belong to Eastern Europe for geographic reasons, of course, but more importantly because they remain, however reluctantly, within Russia's orbit.
[2] John McCourt, The Years of Bloom: James Joyce in Trieste, 1904–1920 (Madison, WI: University of Wisconsin, 2000), p. 96.