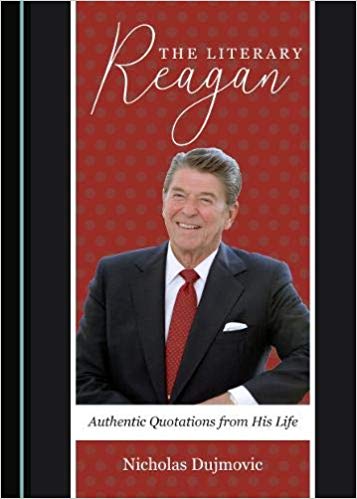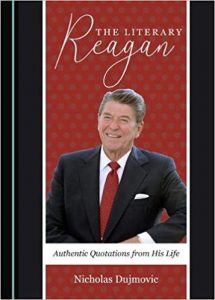 The Literary Reagan: Authentic Quotations from His Life
By Nicholas Dujmovic.
Cambridge Scholars Publishing, 2019.
Hardcover, 346 pages, $88.
Reviewed by William F. Meehan III
Nicholas Dujmovic's rationale for compiling and editing The Literary Reagan is clear: the legacy of the fortieth President of the United States, who passed away in 2004, continues to inspire political discourse across America today. When it comes to presidential campaigns, for example, Republicans outdo each other with their claims of political and philosophical ties to Reagan. Fiery debates about Reagan's role and importance in history, and about the effectiveness of his domestic and foreign policies, take place on the pages of books and on the sets of television studios, as well as in the corridors of Congress. Some scholars, moreover, analyze Reagan's personal side, not the political. "This book," Dujmovic states, "will clarify matters for all of the above, for the best source on what Reagan thought, what he believed, and what kind of man he was—is Reagan himself, Reagan unadulterated, Reagan the great communicator of his own ideas."
Dujmovic explains that his collection furthers the Reagan reappraisal by historians begun in 2001 when the Reagan Library opened its Pre-Presidential archives, where Dujmovic discovered "a vast trove of resources." The material, all penned by Reagan, proved significant for two reasons. First, it leaves no question about the author of Reagan's radio commentaries in the 1970s: "Everyone close to Reagan knew, and all scholars must recognize on the basis of original drafts," Dujmovic writes, "that Reagan himself wrote the radio addresses." Second, the voluminous primary documents—diaries, letters, radio scripts, and commentaries—dispelled beliefs held by public intellectuals, pundits, and Democrats that Reagan lacked intelligence, was even according to one government official a dunce albeit an amiable one. Instead, Dujmovic concludes, the president's archives "demonstrate he was a voracious reader, a prolific and thoughtful writer, a fully engaged mind with a clear, reasoned, and consistent philosophy."
In addition to primary documents in the Reagan Library archives, Dujmovic relies on Reagan staff memoirs and oral histories as well as on the second volume of Ronald Reagan: An American Life (1990), the president's autobiography, for authentic material. Reagan might have employed an editorial staff to help him tell his life story, Dujmovic explains, but the sections written by the president "can be identified with confidence, when compared systematically with the texts for which we have indisputable evidence of his authorship." Dujmovic's methodology thus involved crosschecking quotations in the autobiography with primary documents written in Reagan's hand to ensure selection of "passages consistent with that body of acknowledged Reagan provenance as to be without doubt" his very own.
Dujmovic arranges over 1,500 quotations into sixty-four categories representing "Reagan's interests, concerns, and bugaboos." The groupings reflect topics not only of importance to Reagan as commander-in-chief concerned for his country but also as a human being guided by distinctive principles. The three headings with the largest number of quotations are Cold War, Faith & Religion, and Taxation, followed closely by the State, Foreign Policy, Arms Control, Economy, Education, the Media, and Presidency. Additional headings include America & Americans, Communism, Congress, Democrats & the Democratic Party, Faith & Religion, Humor in Adversity, Lifesaving, Military & Defense, Optimism, Pragmatism, Resolution, Self-Awareness, Toasts, Wine, and Youth.
Dujmovic begins each section with an insightful introduction that expresses his conclusions about Reagan's thoughts on the topic and that provides useful background for understanding the category's role and importance in Reagan's life. A "See also" refers readers to similarly themed categories; in Economy, for example, Dujmovic directs readers to Capitalism & the Free Market, Labor, Pragmatism, the State, Taxation, and Welfare; in Leadership to Delegation & Details, Instincts, Pragmatism, Self-Awareness, and Staff & Subordinates; and in Temper to Curses, Democrats & the Democratic Party, Media, and Riposte.
The quotations, which vary in length from four words to four paragraphs and are organized chronologically in each category, cover most of Reagan's life, including post-presidency in the 1990s. The earliest entry appears in the Optimism section, and Dumjovic introduces the twenty-one selections in the category thusly:
Reagan's genuinely sunny disposition was no act. It came from inner convictions deeply held since childhood. His relentless optimism extended to and permeated every aspect of his life: his religious faith in personal salvation, his belief in the essential goodness of and dignity of all human beings, his confidence in the power of free markets, his conviction that conservative policies reflected reality, and his overall sense that things would work out in the end for the good. Only an optimist could be as successful as Reagan was.
Reagan's cheerful outlook was evident at the age of seventeen when, for a personal motto in his 1928 high school yearbook, he jotted down, "Life is just one grand sweet song, so start the music."
Dujmovic points out that Reagan engaged with nearly every aspect of life in America and asks readers to consider not only the extensive range and scope of the quotations covering a half century but also their consistency. From the 1940s onward, Reagan's views were steady, except in one area. Reagan, Dujmovic writes, underwent "quite a sea change, probably the biggest change of position" in his life when on September 19, 1988—the day Secretary of Education William Bennett left his position—he admitted in his diary there was "a legitimate place for a federal education program." Otherwise, Reagan's views did not change. Writes Dujmovic: "This book demonstrates this truth, that Reagan's views were extremely consistent over time, arguably more so than those of any other major political figure in modern American history. If Reagan's ideas sometimes seem repetitive, it's because he was being true to a set of core beliefs that he maintained with little change over his long life."
Dujmovic recognizes the unavoidable limitations of this collection of authentic Reagan quotations and therefore urges readers to explore the thirty-eight books he lists and annotates in the bibliography to gain a more complete picture of the president's positions and beliefs. Several collections of Reagan's writings appear on Dujmovic's recommended reading list, but The Literary Reagan stands apart from them: it is a comprehensive ready-reference resource for meaningful lines and passages pertaining to the president's lifelong concerns and interests. The handy book is suitable for leisure perusing, and anyone who takes the time to read a few pages will know that when it comes to President Ronald W. Reagan it is always morning in America.
---
William F. Meehan III is editor of William F. Buckley Jr.: A Bibliography (ISI Books, 2002) and Conversations with William F. Buckley Jr. (University Press of Mississippi, 2009), and head of the Blackford Oakes Fan Club.