Transmitting Our Western Heritage Through Education
For over thirty years, thousands of students and dozens of distinguished lecturers have participated in our seminars at Piety Hill. These gatherings have addressed a wide variety of topics, including: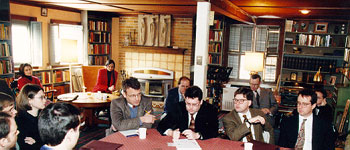 T. S. Eliot and the Defense of Culture
Can Virtue be Taught?
Recovering Historical Consciousness
The Founders and the Constitution
The Role of the Professor in the Postmodern Age
A Humane Economy
Importantly, these seminars provide for fellowship and informal conversation and they foster an appreciation for the importance of an authentically liberal and humane education.
On-Site Seminars
The Russell Kirk Center administers an annual program of on-site seminars that includes the following:
Redeem the Time: These day-long seminars at Piety Hill introduce the works of Russell Kirk to the interested public. Please watch our home page for notice of this seminars.
Roots at Mecosta: A weekend conference that explores Russell Kirk's understanding of the "permanent things" and ways this understanding may be applied practically to social, educational, and political issues today. Attendance is by invitation only, and participants are drawn chiefly from undergraduates interested in the liberal arts as well as political science, government, and public policy.
Graduate student seminar: A weekend schedule of lectures and seminars organized in cooperation with the Intercollegiate Studies Institute for graduate students who are fellowship recipients.
Off-Site Events
The Heritage Foundation Russell Kirk Memorial Lecture Series: Several lectures are delivered each year at The Heritage Foundation in Washington, D.C. Previous speakers have included Michigan Governor John Engler, Annette Kirk, Vigen Guroian, Gleaves Whitney, Wilfred McClay, Kevin J. (Seamus) Hasson, William Rusher, Rep. Henry Hyde, and David Willetts, M.P.
Transmitting Our Inheritance: Lectures and seminars for teachers of the liberal arts in high schools and colleges, as well as for the interested public as space allows. These eventswill focus on one or more of Russell Kirk's books.