Video and Audio Recordings by and About Russell Kirk
RUSSELL KIRK AS A MIDWESTERN WRITER

Video of a seminar on "Russell Kirk as a Midwestern Writer" at the annual meeting of the Society for the Study of Midwestern Literature at Michigan State University, June 2, 2015. Jon Lauck was the moderator and presentations were made by Gleaves Whitney, James Person and James Seaton.
LUBBERS ON THE LIBERAL ARTS
A video of a talk on the importance of a liberal arts education by Arend D. Lubbers, President Emeritus of Grand Valley State University. Listen as Arend D. Lubbers, Grand Valley State University President Emeritus and the longest-serving college president in the country, speaks on the importance of a liberal arts education. President Lubbers has been a longtime friend of the Kirk family and The Russell Kirk Center. During his tenure at GVSU, Lubbers arranged for Russell Kirk to be a visiting professor, deliver a commencement address, and to receive an honorary degree.
You can also download here a PDF of his talk, "Lubbers_Talk."
KARL VON HABSBURG ON RUSSELL KIRK
You can watch it on Vimeo. Running time: 08:10.
Karl von Habsburg is the son of Otto von Habsburg. Karl was a member of the European Parliament for ten years, and in the summer of 1984 he studied the thought of Edmund Burke under Russell Kirk in Mecosta. This video is from a presentation at the Czech parliament in 2000 announcing the publication of The Conservative Mind in Czech. The full video of the celebration—at which Annette Kirk, President of the Russell Kirk Center and Marco Respinti, Senior Fellow and Italian journalist, also spoke—can be seen here at our partner site.
AUDIO AND VIDEO LECTURES ON THE INTERNET

ISI
C-SPAN
VIDEO COMPANION SITE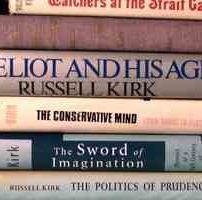 In addition to the videos posted here, please visit "The Wardrobe"—a companion site featuring video and audio archives by and about Russell Kirk. It includes exclusive interviews with scholars, prominent persons in the conservative movement, and Kirk himself. The address is thewardrobe.org.