By Michael Toscano
When Mabel Tolkien died on November 14, 1904, in a diabetic coma, her two sons, Ronald and Hilary, twelve and ten years of age, were passed to the legal guardianship of Fr. Francis Xavier Morgan, a priest of the Birmingham Oratory, founded less than sixty years prior by St. John Henry Newman. Family, some of whom were of generous estate, would have willingly, probably eagerly, taken them in.
But Mabel wouldn't have it. She had converted to Catholicism in 1900, four years after the death of her husband, against the wishes of her family. Arthur Reuel Tolkien (1857–1896) was a good man—he loved Mabel and his sons. But the boys had been baptized in the Church of England. And when Mabel converted, the Tolkiens especially were angered (Mabel was a Suffield), and stripped her of the family's financial support, by which she had been kept from poverty in her widowhood. But she accepted lady poverty, worked doggedly, and scraped together a modest living by which to send her sons to school. But eventually she grew ill, and fearing that Ronald and Hilary would fall under the family's influence and be restored to Protestantism (of which the branches of the family confessed several shades), she gave them to Fr. Francis.
He took in two devastated young men, devoted to their mother's memory. We know of Mabel, really, only because one of her sons would go on to great literary fame, and she appears in his personal letters as a revered example of goodness and faith. But she also makes herself apparent in the things that she passed to her sons. For, despite widowhood and poverty, Ronald and Hilary received from her a happy life. In her own letters, admittedly, she comes off kind of like a Madeline Bassett. "Baby does look like such a fairy when he's very much dressed-up in white frills & white shoes … or even when he's very much undressed I think he looks more of an elf still," she wrote in a letter to her in-laws in 1893, delighting over her firstborn. (Bertie Wooster creeps toward the door.)
But while at times gooey, she was also immensely cultured and learned, and educated the boys wonderfully. Ronald, in particular, learned from her a fine hand for lettering, skill at illustration and with watercolor, fluency with languages—Greek, Latin, German—a fascination with words and their roots and evolution, a love for music and literature, an admiration for trees, flowers, plants, and a sincere delight for the English countryside at a time when it was fast being subjected to modernization. But most important of all, she was a woman of powerful conviction, and by passing her sons to Fr. Francis, she gave them a final lesson in faith.
Mabel's elder son, Ronald, you've surely recognized as John Ronald Reuel, the one "J. R. R.," Tolkien, the author of The Hobbit and The Lord of the Rings. Several recent books have focused on how, during World War I, Tolkien began writing his mythologies in the trenches as a means of escape, and how his horrific experiences at the Battle of the Somme shaped—if not scarred—his imagination. His books were "quickened to life by war," as Tolkien himself put it. A fire was lit among the wreckage that would burn in him until the day he died. But if the Great War put a match to his imagination, Mabel Tolkien's many lessons had assembled the kindling it would burn, for it was the basic intellectual, artistic, mythical, spiritual, and religious matter that she imparted to him that he spent the rest of his life turning into works of literature.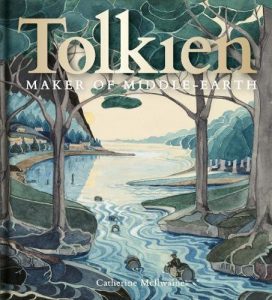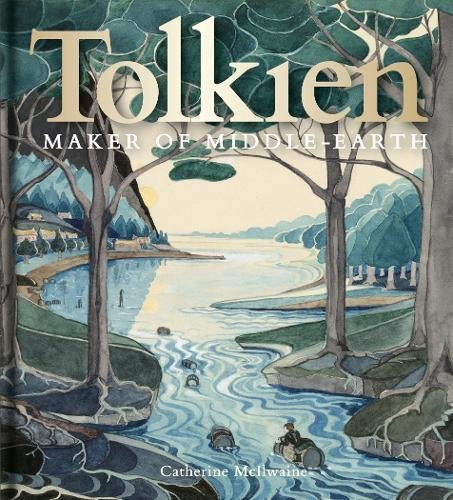 We can see this clearly displayed in Tolkien: Maker of Middle Earth, a collection of Tolkien's hand-written letters, sketches, inks, and watercolors, that was recently on display at the Morgan Library and Museum in Manhattan. As readers of the University Bookman will know from Alexi Sargeant's lovely review, Tolkien was an amateur illustrator of great ability and imagination and (with his own illustrations printed as covers of his books) some success. Sargeant meditates on the magnificence of Tolkien's achievement in realizing, in his published works, a story of such grand scope and mythic clarity and on the tragedy of failing to complete what he actually set out to make: a "many-thousand-year" mythological history of his own devising. "It's impossible for any human being to make a world," Sargeant writes.
Sargeant titled his review "Two Tolkiens on View," in recognition of how two dominant parts of the man's personality, the dreamer and the academic, wrestled with one another, one making endlessly—tales, sketches, poems, songs—the other restoring order to what was made by joining it all together into a single, law-abiding myth that stretched far beyond the boundaries of past literature.
There was a third Tolkien on display there, too: Mabel.
Here is a photo one of her stylish letters, to her in-laws, Mr. and Mrs. Tolkien, displayed by the exhibit curators to demonstrate her influence: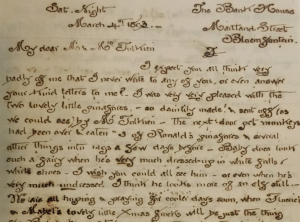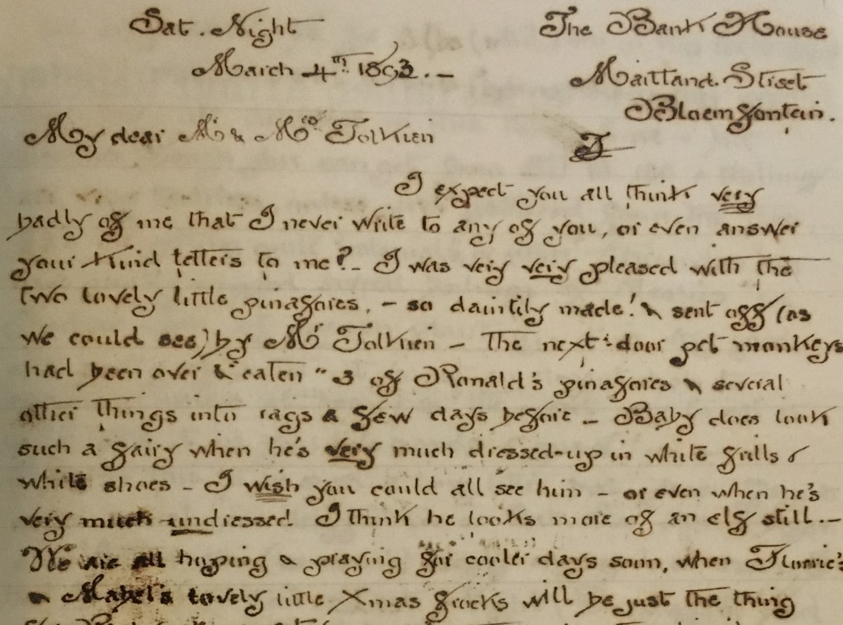 Now here is a letter written by her son, Ronald, as King Aragorn addressing Samwise Gamgee, his royal governor in the Shire.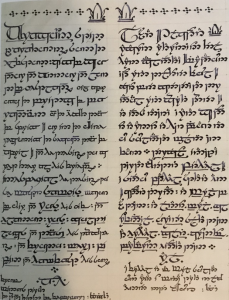 The son's hand is more disciplined, more refined, more florid, and more regal than Mabel's—as it must be, in this case, writing as a king. Yet the stylistic rudiments of the son's letter are drawn entirely from the mother's. Her talents and tastes for calligraphy have been passed to Ronald and he has transformed them into a grand art by grafting them into his epic work.
Tolkien's genius was his own. His mother's influence is not ultimately responsible for what he made of it. His very love for fairy stories (and far more) he received from Mabel. But, as childhood admirers of The Hobbit found when reading The Lord of The Rings, his understanding of them, with time, matured far beyond that original inception. And yet, with what material would Tolkien have had to work if his mother had not adorned his soul and mind so richly? His works of imaginative genius have been, in their heart, touched by a mother's love.
"Though a Tolkien by name, I am a Suffield by tastes, talents, and upbringing," he wrote to his son Michael in a letter dated March 18, 1941. He goes on:
Your grandmother, to whom you owe so much—for she was a gifted lady of great beauty and wit, greatly stricken by God with grief and suffering, who died in youth (at 34) of a disease hastened by persecution of her faith …
Mabel's unnamed persecutors were none other than the Tolkiens; and Michael owed her for withstanding their maltreatment, because, by her sacrifice, the Catholic faith was preserved in his father who had in turn passed it to him. Ronald—who did not bandy about with words (and who was something of an expert in them)—knew her as nothing less than a "martyr":
My own dear mother was a martyr indeed, and it is not to everybody that God grants so easy a way to his great gifts as he did to Hilary and myself, giving us a mother who killed herself with labour and trouble to ensure us keeping the faith.
Mabel had given Ronald and Hilary many things, but few gifts in this world are more estimable than faith. It is surpassed only by love. That, undoubtedly, she gave, too.
Fr. Francis received two boys heartbroken by their mother's death, though they hid it well. Arthur, their father, had died when they were only four and two. Death, the boys knew, had an unwelcome authority over happy things. "Daddy" had died in Bloemfontein, where he managed a branch of the Bank of Africa, eager to reunite with his bride and two boys, who that year had convalesced back home in England, where the cooler air suited Ronald better than the hard sun of the desert. Ronald's letter to his father, dated February 14, 1896, was never sent—"I am so glad I coming back to see you." When their mother died four years later, Ronald and Hilary, just as she had taught them, got on with life—but not without reverence to their mother's memory.
Hilary went on to marry. He had three sons and was a farmer. Ronald married Edith Bratt, a fellow orphan, and they had four children, whom they loved dearly. With Fr. Francis's financial help, Ronald made his way to Exeter College, Oxford, where he won first-class honours in language and literature, and, after a short but happy stay at the University of Leeds as a professor, he returned to Oxford to become a much-loved, if quite-distracted, scholar. As a student, he was deployed at the Somme, and most of a small band of his very best friends from childhood died on the battlefield, as did many others of his generation that he counted as companions and peers. (Middle Earth, as was said above, was born in the bloody, boggy trenches of the Western Front.) He had a love for poetry and a vast knowledge of words and language (he was a philologist by trade). He enjoyed beer, a pipe, and a good long chat with close friends of like mind. During his years as a professor, one of those friends was C. S. Lewis, with whom he formed an informal writers club known as the Inklings, which shared an interest in mythological, poetic, and religious things. Tolkien read The Lord of the Rings aloud in near entirety to the Inklings over the many years of composing it.
That is to say, Tolkien had happy times—but many were sad. Death knew him well. It came for C. S. Lewis on November 22, 1963. "So far I have felt the normal feelings of a man my age," he wrote four days later, "like an old tree that is losing all its leaves one by one: this feels like an axe-blow near the roots." Death came next for Edith on November 29, 1971, and for him on September 2, 1973.
"It is about Death and the desire for deathlessness," Tolkien said when pressed by a reader seeking explanation of the work. "Freedom from Time, and clinging to Time," he told another. Not that Tolkien had developed this theme with conscious intention. According to him, quite the contrary: "[it] is only in reading the work myself (with criticisms in mind) that I became aware of the theme of Death."
Readers of his books sense death's presence, however, even if they don't realize it consciously. They are thrilled by the glory of the tale's high adventure and shocked by its imaginative potency; they are staggered by its utter bigness and are moved by the sense of antiquity that radiates through it. But they are pierced, I think more importantly, by its grey sadness. This is a world which is passing away, even as readers are gaining entry to it. Time has rights here, over even the good and the beautiful. If the book has an architectonic feeling, it is sadness over being made to die (by which I don't mean despair).
There is no mystery why death and the desire for deathlessness would creep into Tolkien's book. He—ever one to deflect undue attention from the author—claimed it is there merely because "it is a tale written by a Man!"—which is, of course, true. But it's also because, from the youngest age, he was intimate with most of what a man would experience over the full course of a life.
For Tolkien, there was no ignoring death. One can either find hope in it or seek to escape it by unnatural, necromantic power. The latter is the way of Sauron, and the temptation of all men. The former, the true path, is the way he learned from his mother, Mabel. She, as he saw it, chose death so that he and his brother might have faith, and with faith, hope. And hope, by all accounts, they had.
---
Michael Toscano is the executive director of the Institute for Family Studies.