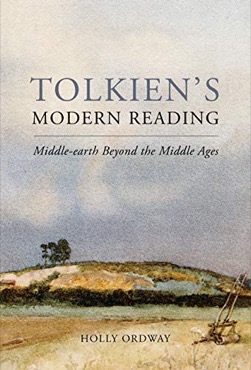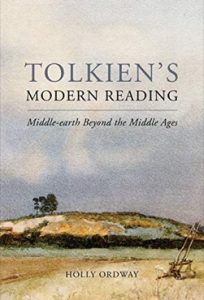 Tolkien's Modern Reading: Middle-earth Beyond the Middle Ages
by Holly Ordway.
Word on Fire Academic, 2021.
Hardcover, 382 pages, $24.
Reviewed by John Tuttle
Holly Ordway's engrossing volume Tolkien's Modern Reading is significant in its own right, but it also marks the inaugural book released by Word on Fire Academic. Ordway's work consists of examining both what the philology professor pored over through his work (and perused in his leisure) as well as the way in which the modern reader can better understand the person Tolkien was.
Tolkien's literary interests and influences went far beyond dated works such as the Edda that would stoke the flames of his imagination.
Ordway notes that there's a damaging stereotype Tolkien has become stuck in: the image of an English professor whose face is set like stone and whose mind is fixated on bygone glories. But stereotypes can be misleading. Such is the case with the frequent picture given of J. R. R. Tolkien.
Some writers, such as Douglas A. Anderson in his commentaries throughout Tales Before Tolkien (a collection of short stories that likely impacted the LOTR author), have ventured to make connections between Tolkien's work and that of other modern writers. But nothing to the scope and proficiency of Ordway's new book has been accomplished.
A book like this is necessary to scholarship but also to attain a more accurate view of the man Tolkien was—in his ideas, his convictions, and his recreational tendencies.
Perhaps the most damage to an authentic snapshot of the famous author's personality was committed through the biases and inaccuracies of early biographers. Humphrey Carpenter is seen as a particular menace, penning a biography that painted a caricature more than a direct interpretation of the man Tolkien was.
But another harmful writer who took to describing Tolkien is called out as a bad influence; this would be William Ready, who penned a small monograph titled The Tolkien Relation, later given a new title: Understanding Tolkien and The Lord of the Rings.
While it was well-received in the public's eye when initially published, Professor Ordway points out some of The Tolkien Relation's clear biographical flaws. She notes that Tolkien himself found Ready's conclusions distasteful:
When he read the published book, Tolkien declared that Ready was "a rogue" who had spoken with him on a short visit under false pretenses, and had "embroidered [his recollections of the conversation] with wholly illegitimate deductions of his own and the addition of baseless fictions.
While Ready's work was unpopular in Tolkien's eyes, as well as those of modern scholars, he did make some worthwhile theologically inclined allegorical connections. To his credit, he also made a few clear distinctions between the differences of C. S. Lewis and Tolkien. But Ready's misrepresentations throughout his booklet had long-lasting and detrimental repercussions on subsequent Tolkien scholarship.
Ordway takes a limited amount of space to discuss what many a Tolkien analyst has stated previously—that Lewis and his good friend and fellow Inkling were not one and the same. They had different beliefs, tastes, and modes of working that made them stand out both in their individual profession and persona.
When the two become equated with one another (and this is certainly problematic), the author poses this may be dubbed the "Tollewis." This perception does a disservice to both these renowned writers.
Nevertheless, the mainstay of Tolkien's Modern Reading deals with those literary works that we definitively know Tolkien to have read and digested. His reading habits took him far beyond the Middle Ages. We learn about his opinions on writers such as Agatha Christie, Edgar Rice Burroughs, Mark Twain, Sir Henry Rider Haggard, and others.
A striking element of this book is the way in which Ordway examines the psychology of Tolkien—both in the way he incorporated his influences into the Middle-earth legendarium and in how he defended or denied his indebtedness to various authors who came before him.
In Ordway's book, Tolkien's budding imagination is described as a "leaf-mould." Into this "leaf-mould" went all of the literature he digested over his lifetime. When it came to writing The Hobbit and LOTR, he already had the fertile soil to provide his imagination with a great deal of what he needed.
While his imagination fed on a varied diet of fantasy, drama, crime, and more, this doesn't mean that Tolkien was uncritical of his reading materials. Nothing could be farther from the truth. In fact, the professor was influenced in two different ways by what he read.
The first was simply via inspiration. Some element in a story Tolkien experienced in his childhood, for instance, might resurface from the "leaf-mould" and inspire a character, setting, or event that made its way into the legendarium. But the second method, that of influence-by-opposition, was the fruit of the author's imagination when he confronted a piece of literature he disliked. Upon reading certain books, most notably some of George MacDonald's work (with which he had a complicated relationship filled with varying levels of praise as well as disapproval), Tolkien convinced himself that the stories they sought to tell could have been better in the telling.
Another fascinating area where Tolkien was perhaps influenced by exposure to negative attributes of period literature was that of racism. Because Tolkien himself has been accused of being racist in his portrayal of the villainous peoples of Middle-earth, this issue is unavoidable. Ordway addresses it most aptly, primarily in the chapter "Boys' Own Adventure."
In his youth, several of the adventure stories he read, which were written by British authors, displayed blatant shades of imperialism. In these, indigenous people were often belittled and looked down upon. Their representation was not the least bit flattering. However, as Ordway illustrates, this served as an influence-by-opposition. She argues, "Tolkien was notably free of racial prejudice at a time when casual racism and anti-Semitism were, by today's standards, common."
Ordway points to various moments in the legendarium where Tolkien actually makes his diverse races out to be personal, honorable, and sophisticated. Thus, the representation has a positive tone, not a demeaning one.
Many parts of Tolkien's life and psyche contributed to the grand expanse of Middle-earth's culture and its inhabitants. But Tolkien's own criticism of literature surely made significant contributions to his own storytelling.
A sheer delight among LOTR fans interested in delving into the sources of the great saga—the rich "compost" that filled Tolkien's imagination—this book also presents an enlightening new view of the way Tolkien carried himself personally and professionally.
Tolkien's Modern Reading is simply one of the most serious, yet most enjoyable works of scholarship dedicated to this famed Hobbit-like man in recent years. It is a necessary inclusion in anyone's Tolkien collection.
---
John Tuttle has written for The Hill, Culture Wars magazine, The Millions, Starting Points Journal, Catholic Journal: Reflections on Faith & Culture, Eucatastrophe, and the University of Notre Dame's Grotto Network. He contributed a chapter to the book The Right to Believe (Vide Press 2020). He has also served as the prose editor for Loomings, the literary magazine of Benedictine College.