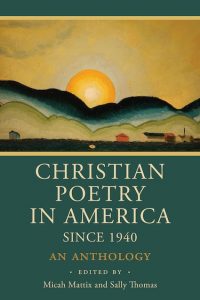 Christian Poetry In America Since 1940: An Anthology
Edited by Micah Mattix and Sally Thomas.
Iron Pen/Paraclete Press, 2022.
Paperback, 208 pages, $25.
Reviewed by Steven Knepper. 
Christian Poetry In America Since 1940 begins with a proclamation: "There has been a revival of Christian poetry in America, and our hope is that this anthology will demonstrate as much by presenting some of the best poems by some of the best poets, established and new, over the past 50 years." The anthology gathers poets Protestant, Catholic, and Orthodox. It gathers poems varied in form and tone and topic. There are poems about encountering God in the unexpected: an eye floater, a giraffe, a geode, an image from the Hubble Space Telescope. There are poetic prayers. There are poems at the intersection of Christianity and Native American spirituality. There are poems about sermons good and bad, startling and boring. There are poems about Christian hypocrisy and the legacies of slavery and racism. There are poems of doubt and lament. There are humorous poems that manage at the same time to be moving and convicting. There are poems about biblical narratives, mystical experiences, and saints. (I discuss "Some Will Remember You," James Matthew Wilson's remarkable poem about Edith Stein/St. Teresa Benedicta of the Cross anthologized here, in an earlier Bookman review.) From beginning to end, this is an anthology of profound and deftly executed poetry. It features at least two poems each from 35 poets, living or recently deceased, from Paul Mariani, born in 1940, to Chelsea Wagenaar, born in 1989. In short, the anthology amply demonstrates that there has been a revival of serious poetry by serious Christian believers. 
Glancing at a few poems gives a sense of the anthology's riches. David Middleton's "The Sunday School Lesson" turns back to the poet's boyhood summers, which he spent visiting family in north Louisiana. Each Sunday, he found himself in a "room…full of thirteen-year-old boys / Unhappily constrained by polished shoes, / Bow ties, oiled hair, and orders against all noise, / And one eternal hour of Good News." Even the teacher, Jack Hopkins, seems more interested in sharing fishing stories and lore than in delving into that week's lesson. He prefers to explain to his young charges how they can "land nine-pound bass with a two-pound line." But Mr. Jack "seemed different" one Sunday as "he slowly read, then half-recited" the story of Jesus walking on water from Matthew's Gospel. After this reading, Mr. Jack recalls a violent storm when he was out fishing on the lake:
Perhaps it was the play of dark and light

Or just his tiredness vivified with fear

And yet he swore that at the torrent's height

He saw the Christ by lightning drawing near.
This earnest testimony, the sharing of perhaps the key spiritual event of his life, startles the boys, and they shamble out of the classroom "Embarrassed, even scared to have to pass / This man who'd gazed beyond the body's doom." Yet in sharing his story, Mr. Jack becomes one of Christ's unlikely apostles, a fisher of men. After all, his testimony left an impression on at least one boy in the classroom, who would preserve it decades later in elegant cross-rhyming quatrains. 
Julia Spicher Kasdorf offers another poem of childhood memory and vivid characterization in "Dying with Amish Uncles," though here we leave stifling Louisiana summers for a Pennsylvania winter where "The ground was frozen so hard" that the speaker's uncles had to use "a jackhammer to pry / open a grave in the rocky field" to bury their father. As graveside hymns compete with howling winds, "Uncle Kore wouldn't wipe / his dripping nose and chin." The first two stanzas of the poem describe this stark burial. The two subsequent stanzas recall a family reunion "Ten years later when we gather / for July ham and moon pies," and when the uncles now sing their father's "favorite hymns. / At 'Gott ist die Liebe,' / they almost laugh / with the tears running / into their beards; / Abe and Mose and Ben / do not wipe them." As in Middleton's "The Sunday School Lesson," this poem provides an affecting glimpse into the inner life of men who are probably not much given to self-disclosure. 
Marilyn Nelson's "Miracle in the Collection Plate" is a dramatic monologue based on historical events—the passage of the Fugitive Slave Act in 1850 and the subsequent arrest of James Hamlet in New York City. The monologue is spoken by Reverend Christopher Rush, who is trying to raise $800 to purchase Hamlet's freedom. The gathered congregation includes Hamlet's "wife and child." Rush's appeal ends, "I know every penny counts, / living from widow's mite to widow's mite. / But with God's help, we can raise that enormous amount! / Let's make a miracle in the collection plate!" Rush is not calling for a dramatic divine intervention like the earthquake that delivered Paul from his prison. But he calls for a profound miracle nonetheless, a miracle of self-sacrifice born out of love and a hunger for justice in the face of affliction and affront. The effort to purchase Hamlet's freedom was a success. 
Dana Gioia's "Seven Deadly Sins" imagines dinner at a "cheesy dive" with personifications of the deadly sins. Pride talks trash on the other six sins and addresses a "you" that could be, well, you—the reader. Pride claims, "They're only using you. / Admittedly, Lust is a looker, / but you can do better." Pride sneers as the other six go away in an apparent huff, but he doesn't let "you" leave just yet, saying "I have a story" 
that not everyone appreciates—

about the special satisfaction

of staying on board as the last 

grubby lifeboat pushes away. 
It is a funny poem, for sure, but it also packs a spiritual punch. It encourages the reader to take a hard look inside for perhaps the deadliest of sins—for pride that can easily disguise itself as moral righteousness. Read in that way, Gioia's poem becomes a sort of strange examen. 
There are many lines in the anthology that you will find yourself pondering and repeating days after reading them. Again, a brief selection suggests further riches. Paul Mariani in "Mother of Consolation": "The scrim of sight is dimmed with sick desire." Kathleen Norris in "Ascension": "Now the new mother, that leaky vessel, / begins to nurse her child, / beginning the long good-bye." William Baer in "Snake": "Become as gods, transform to something new; / put hiss in your voice and fork your tongue in two." Franz Wright in "Year One": "Proof / of Your existence? There is nothing / but." A. M. Juster in "Three Visitors": "Mist on moonspill as midnight nears." Tracy K. Smith in "The Universe as Primal Scream": "Screaming like the Dawn of Man, as if something / They have no name for has begun to insist / Upon being born." Benjamin Myers in "The Reverend on Natural Theology": "Everything broken must be broken again. / I will make you fissures of men."
Each poem in this anthology is well-crafted, but each is also highly readable. None are formidably dense, abstract, elliptical, or elusive. This will help bring the riches of the Christian poetic revival into the pews. Even readers who usually avoid poetry will be drawn in by this collection. The editorial work around the poems is another strength of the anthology. The author notes at the beginning of each selection bring together biography, major themes, poetic practice, and an incisive close reading of a poem or two. They invite readers to turn from the anthology to each poet's broader body of work. Micah Mattix's introduction to the anthology offers a thoughtful reflection on the question, "what exactly is Christian poetry?" Gioia, in his classic 1991 essay "Can Poetry Matter?", noted that poetry had a wide readership that went beyond the academy well into the twentieth century. Most of these readers "knew poetry mainly from anthologies, which they not only bought but also read, with curiosity and attention." This is the kind of anthology that could help recover some of that wide readership. I thank Mattix and Sally Thomas for sharing it with us. 
---
Steven Knepper teaches in the Department of English, Rhetoric, and Humanistic Studies at Virginia Military Institute. He is the author of Wonder Strikes: Approaching Aesthetics and Literature with William Desmond. His essays, poems, and reviews have appeared in a number of journals.
---
Support the University Bookman
The Bookman is provided free of charge and without ads to all readers. Would you please consider supporting the work of the Bookman with a gift of $5? Contributions of any amount are needed and appreciated!